A Musical and Ritual Analysis of Maqams of the Ahl-e Haqq Cem in the Context of the Sacredness of Music
Nihat Yalçın

Gaziantep University

Yashar Behnoud

Müzisyen (Tanbur Sanatçısı) ve Yazar
Keywords:
Maqams of Ahl-e Haqq, Ahl-e Haqq, Alevi music, music of cem ceremonies
Abstract
Cem ceremonies within Alevi belief system, along with belief-centered rituals which they contain, also include elements of music. In the context of belief and music, cem ceremonies have a major role in keeping alive and transmitting music accepted as sacred. With these characteristics, cem ceremonies form one of the main sources of Sufi folk music. The sacredness of music accepted in all Alevi communities has been performed in accordance with a specific maqam tradition within Ahl-e Haqq communities and has been kept alive till today. The origins of this maqam tradition reach back to mythological ages in which events from the Ahl-e Haqq myths were told only by music without words. The maqams of the Ahl-e Haqq cem ceremonies are gathered under two main groups: "Mecazi (Nonliteral) maqams" and "Hakiki (Literal) maqams".
In this paper, 29 Mecazi maqams and 72 Hakiki maqams determined in accordance with collecting and interviews done during our filed work in Iran, were analyzed on the basis of music in line with melody, rhythmical characteristics and emotion evoked in listener and performer during performance; functional aspects of maqams as sacredness represented within cem ritual, mystical communication in cem community and ensuring "niyaz" (prayer), were analyzed on the basis of ritual.
Downloads
Download data is not yet available.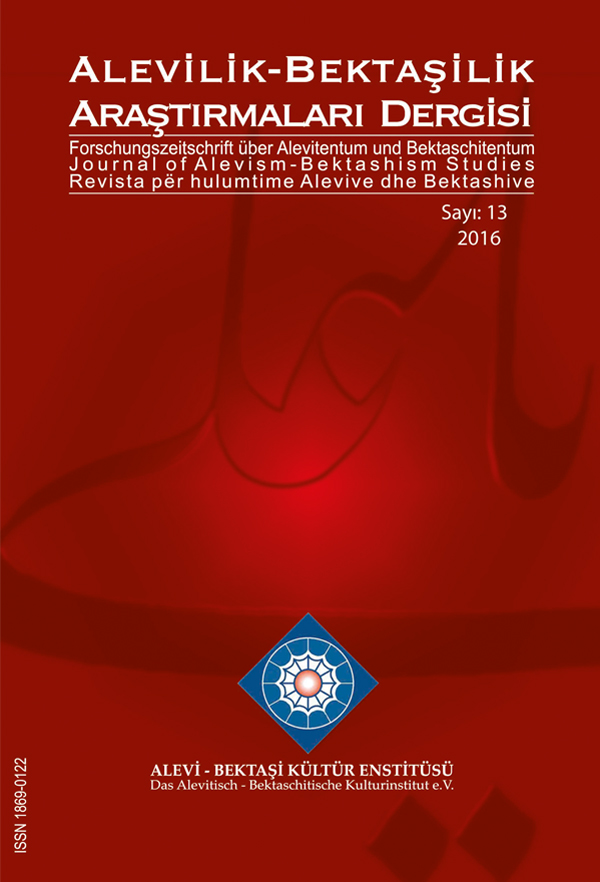 How to Cite
[1]
Yalçın, N. and Behnoud, Y. 2017. A Musical and Ritual Analysis of Maqams of the Ahl-e Haqq Cem in the Context of the Sacredness of Music. Journal of Alevism-Bektashism Studies. 13 (Dec. 2017), 132-202. DOI:https://doi.org/10.24082/abked.2016.13.006.