Shah Ismail's Mother Alamshah Begum: Legends and Realities
Keywords:
Shah İsmail Khatai, Alamshah Begum, Caterino Zeno, Safavids
Abstract
Shah Ismail is accepted as one of Seven Great Poets in Alevi tradition. His mother Alamshah Begum is one of the women who played a significant role in the medieval history of Azerbaijan. This woman belonged to Akkoyunlu Dynasty from her father's side and her mother was from the family of Trebizond Emperors. She married with Sheikh Haydar, who was spiritual leader of the Sufi Order in Ardabil. Alamshah Begum gave birth to three sons and three daughters. Later, her younger son Ismail was the owner of throne and crown. He founded Safavid State, heartland of which was Azerbaijan. In this process Alamshah Begum gave full support to her son. In his poems Shah İsmail commemorated his mother respectfully and compared her to Hazrat-i Fatima. Safavid historians always mentioned Alamshah Begum with great esteem.
But in some novels, corner posts and examples of popular historiography, which published especially in recent years, are claimed that Shah Ismail allegedly killed his mother after the conquest of Tabriz in 1501. These authors as sources of their claims refer to the voyage books of Venetians, who traveled in Azerbaijan at that time. Whereas Venetian ambassador Caterino Zeno clearly states that Shah Ismail killed his stepmother, but not his own mother. However in the Turkish translation of this work instead stepmother inadvertently was written simply mother and this mistake has become a "source of inspiration" for those who want to bedaub of Shah Ismail.
According to Safavid sources Alamshah Begum was not killed in 1501 and she survived long years after this date. Writings on Alamshah Begum's gravestone, which is located in courtyard of Sheikh Safi's tomb, near to Allah Allah cupolas, show that this woman died in 929 A.H. / 1522-23 A.D.
Downloads
Download data is not yet available.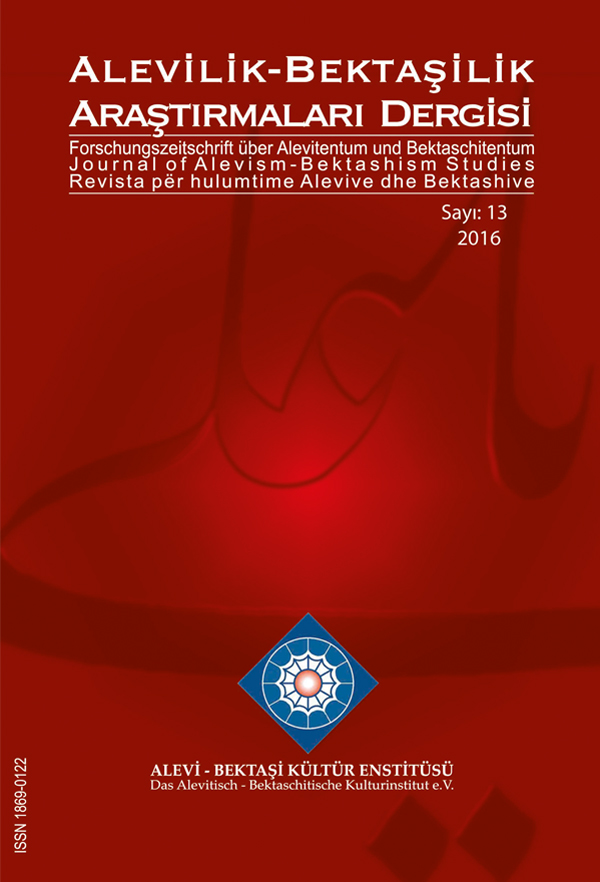 Downloads
How to Cite
[1]
Musali, N. 2016. Shah Ismail's Mother Alamshah Begum: Legends and Realities. Journal of Alevism-Bektashism Studies. 13 (Jun. 2016), 35–59. DOI:https://doi.org/10.24082/abked.2016.13.003.
License
Copyright (c) 2016 Journal of Alevism-Bektashism Studies
This work is licensed under a Creative Commons Attribution-NonCommercial-NoDerivatives 4.0 International License.