Hızır Belief in Alevism-Bektashism and Alevi-Bektashi Lodges, Tomb and Ocaks Named as Khidr (Hıdır)
Fahri Maden

Kastamonu University
Keywords:
Alevism-Bektashism, Gray Horse Khidr, Khidr Believe, Khidr Baba Lodges, Khidr Baba Ocak, Uryan Khidr Ocak
Abstract
Khidr belief is one of the most important and fundamental matters in Alevism- Bektashism. In other words, Khidr believe is an integral part and the whole of Alevism-Bektashism. Khidr believe has emerged in the Qur'an, Hz. Muhammad, Hz. Ali, Ahl al-Bayt, Twelve Imams, from life of Hunkar Hacı Bektas Veli. All Alevi- Bektashi circles are believed to be Khidr, who is known for his ledun ilm. He is a mursid-i kâmil with a black beard, a gray horse, a dervish, and a grandfather. He is the helper of every person who has difficulty and hardship. Khidr name is widely used, because Khidr is so important in Alevism-Bektashism. In this respect, in the historical process, the names of lodges, tomb, yatır, visit, makam and various places called Khidir (Hıdır) have appeared on all four sides of the world. In addition, Khidr (Hıdır) was named after two Alevis Ocaks. These are Hıdır Abdal Ocak and Uryan Khidr Ocak. In this study, the Alevi-Bektashi institutions under the name of Khidr (Hıdır), starting from Anatolia and operating throughout history from Rumeli, Cyprus, Baghdad and Tabriz will be discussed.
Downloads
Download data is not yet available.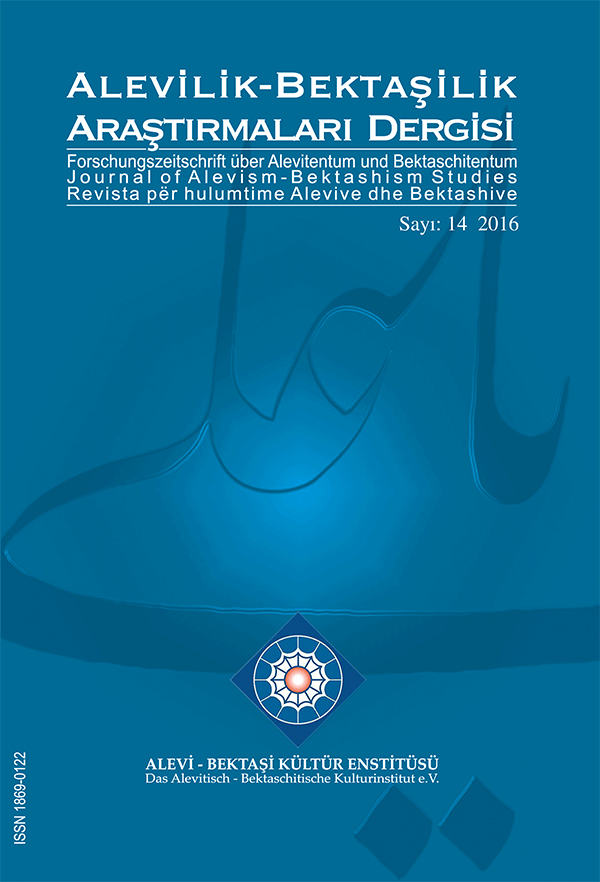 How to Cite
[1]
Maden, F. 2017. Hızır Belief in Alevism-Bektashism and Alevi-Bektashi Lodges, Tomb and Ocaks Named as Khidr (Hıdır). Journal of Alevism-Bektashism Studies. 14 (Jun. 2017), 119-162. DOI:https://doi.org/10.24082/abked.2016.14.006.