Sazandar Tradition among Tahtaci Alevis belonging to the Yanyatir Ocak: The Example of Sazandar Ismail Gacar
Keywords:
Alevism, ocak, Tahtaci, cem, service, sazandar, Ismail Gacar
Abstract
The Alevi belief system is institutionalized around ocak. The belief system has continued to exist, and still exist through ocaks in a very large region from Anatolia to the Balkans. The Alevi belief system, which differs according to ocaks and regions, has a rich ritual system. The communities affiliated to ocaks are generally named after religious leader, founder of the ocak. Tahtaci Alevis, who are the subject of our study, appear as group named after their profession.
The Tahtacis are an Alevi community that migrated from Khorasan to Anatolia through history, brought along the old Turkish beliefs and culture, and lives in the Mediterranean, Aegean and Marmara regions today. Due to their engagement with woodwork in nomadic lifestyle, they were called Tahtaci. Over time, this name has become the name of a belief community. As other Alevi groups, Tahtaci Alevis are also ocak centred. They are affiliated with two ocaks. One of them is the Yanyatir Ocak whose religious leader is Durhasan Dede, and the other one is the Haci Emirli Ocak, whose religious leader is Ibrahim Sani. The centre of the Yanyatir Ocak is in the Ceyhan village in Adana, and the centre of the Haci Emirli Ocak is located in Islahiye Kabaklar village in Gaziantep.
The Tahtaci Alevi community is one of the main groups that keep the closed society structure alive in the strongest way. Tahtacis have managed to sustain and pass on the diversity of their ritual system and their lifestyle through the closed society structure until the last fifty years.
Using the example of Ismail Gacar, this study will try to analyse the service of sazandar, which is one of the twelve services within the belief system that enables the survival and transmission of the Tahtaci Alevis' sacred memory. For better understanding of the subject, first of all, the ocak-centred structure of the Alevi belief system will be explained, and then the service of sazandar among Tahtaci Alevis will be discussed in the context of the ocaks of Tahtaci Alevis, the services and cem rituals performed in these ocaks. The basis of the study will be cem rituals, services and the service of sazandar performed in the Yanyatir Ocak where Ismail Gacar serves as a sazandar.
Downloads
Download data is not yet available.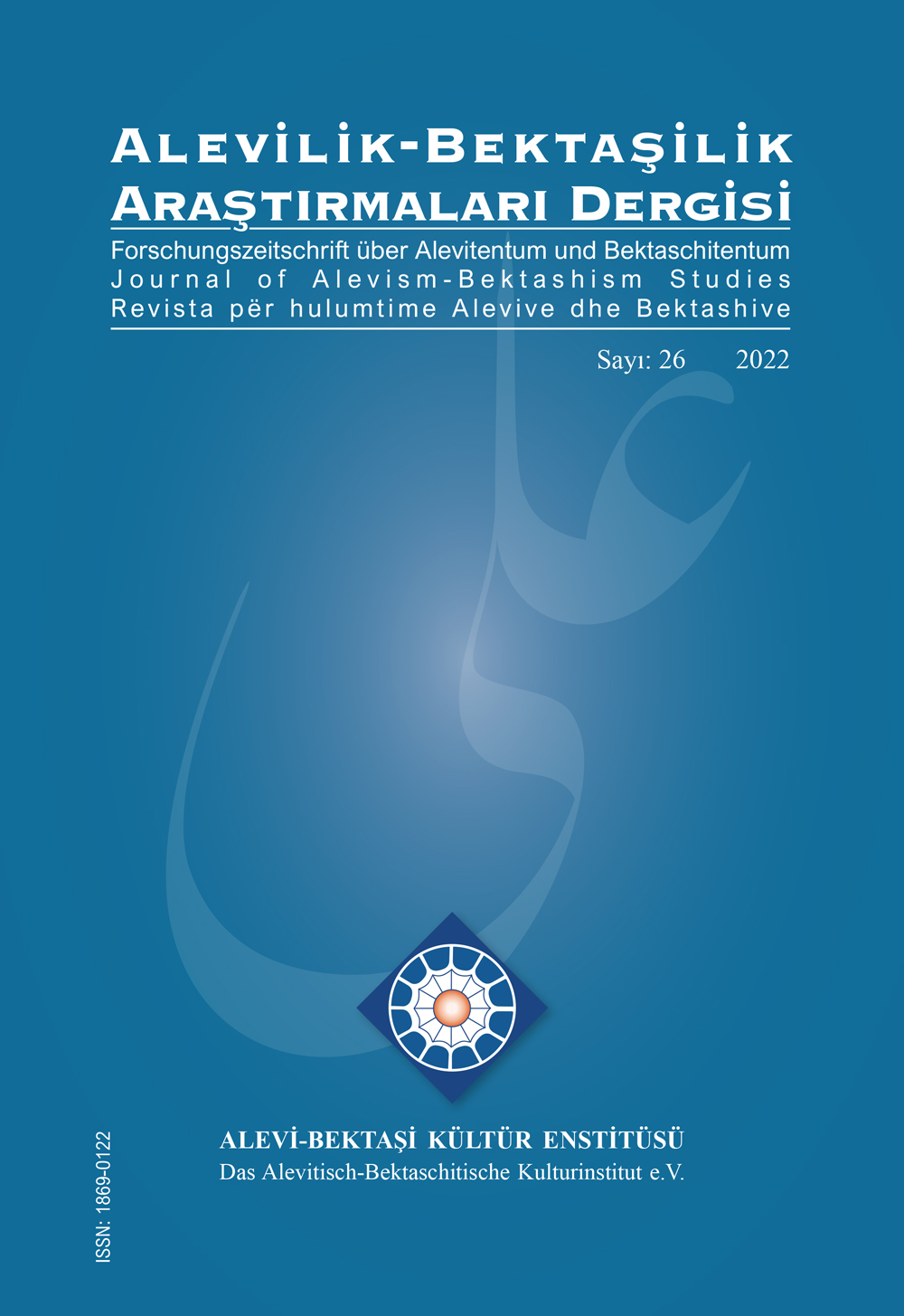 Downloads
How to Cite
[1]
Gacar, S.Y. 2022. Sazandar Tradition among Tahtaci Alevis belonging to the Yanyatir Ocak: The Example of Sazandar Ismail Gacar. Journal of Alevism-Bektashism Studies. 26 (Dec. 2022), 155–187. DOI:https://doi.org/10.24082/2022.abked.393.
License
Copyright (c) 2022 Journal of Alevism-Bektashism Studies
This work is licensed under a Creative Commons Attribution-NonCommercial-NoDerivatives 4.0 International License.