Nimatullahi Sufi Order, Safavids and Interviews on Nimatullahi Sufi Order (2014-2015)
Ahmet Küçükkalfa

Araştırmacı Yazar
Keywords:
Nimetullahi Sufi Order, Safavid, Dr. Javad Nurbakhsh, Sheikh Haydar, Qalandari
Abstract
While I was reading the famous work of Ahmet Yaşar Ocak, named "Marginal Sufilik" I noticed that The Nimetullahi Sufi Order has got a very special situation especially in Safavid Turkish history due to Şah Nimetullahi Veli, who met Qalandaris in Kaygusuz Abdal Zawiyah in Egypt who asked his followers to wear hats of 12 piece even Sheikh Haydar's followers were wearing 12 piece hats father of Shah Ismail that makes The Nimatullahi Sufi Order more interesting. Fuad Köprülü underlines that Shah Nimetullah has an important role in Safavids becoming Shia Islam due to his followers spread to every direction from Anatolia to India and Turkistan (Middle Asia). Since Mir Nizamuddin Abdulbâki (death 1514), during Shah İsmail's era, is appointed as minister; The Nimetullahi family got role in government and also established cognations with Safavids. Shah Nimetullah's Tomb, located in Mahan (Iran), enlarged during Safavids' era and became one of the most important visiting places until today. I hope that these interviews (2014 and 2015) made with the people of upper stages in The Nimetullahi Sufi Order which has got quite a long historical background, would bring more objective and comprehensive view on the current situation of Sufi.
Downloads
Download data is not yet available.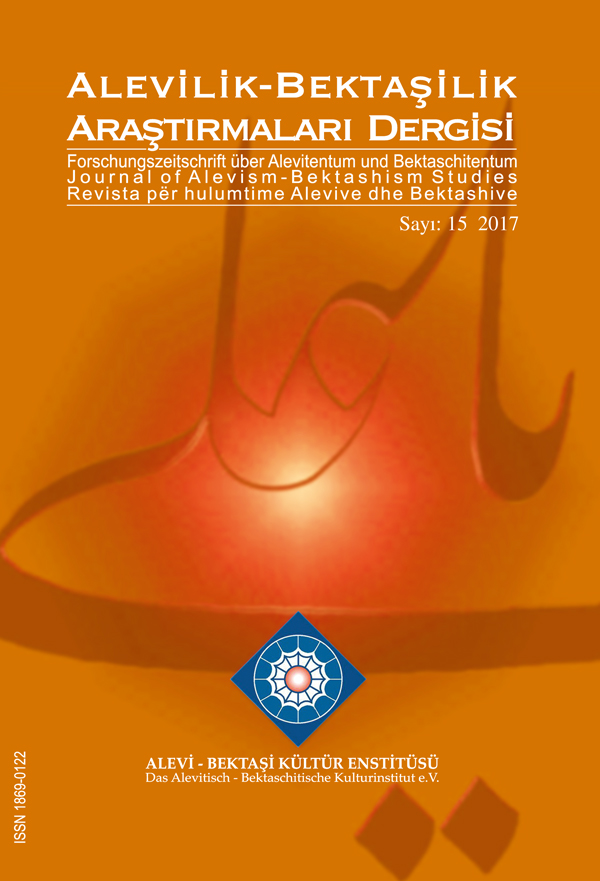 How to Cite
[1]
Küçükkalfa, A. 2017. Nimatullahi Sufi Order, Safavids and Interviews on Nimatullahi Sufi Order (2014-2015). Journal of Alevism-Bektashism Studies. 15 (Jun. 2017), 299-320. DOI:https://doi.org/10.24082/abked.2017.15.012.