Manuscripts of the Virani's Divan
Keywords:
Virani, divan, manuscript, Alevi-Bektashi literature
Abstract
Virani (also known as Ashik Virani, Viran Abdal, Virani Baba) was a tekke poet who lived at the beginning of the 17th century, was loved by the people enough to be shown among the Seven Great Poets of Alevism, and stood out with his Hurufi and Ali-ilahi belief. The studies and information to date about Virani's life are extremely limited, inaccurate, incomplete or incorrect.
The poems and advices he gave during his lifetime have survived to this day as various literary works. These works are collected in general under two basic headings: Divan and Risale. Virani's work known as Divan includes verses on Hurufism and the belief of Ali-ilahi, that divinises Hz. Ali, and religious and Sufi poems on various subjects. Virani has shown that he is as least successful as an average divan poet in terms of from by using a great number of prosody patterns, and different forms of verses of divan and folk poetry (gazel, musammat gazel, müstezat gazel, dörtleme, murabba, muhammes, müseddes, terci-bend, mesnevi). Virani's Risale is a summarized and interpreted version of Cavidanname in Turkish, written by Fazlullah who is considered to be the founder of Hurufism. Although he uses verses to support his views in between, the work in general is written in prose. Hurufism, this order teachings and Sufi subjects stand out in the Risale.
The main purpose of this study is to introduce the manuscript copies of the Virani's Divan and to evaluate them. For this purpose, we done our research in the archives belonging to the state, university and municipal libraries, especially National Library, in Turkey, the state and university libraries abroad, and the private archives belonging to individuals; we identified divans thought to belong to Virani that have characteristics of manuscript. Afterwards, we analysed the copies of the Virani's Divan in terms of form and content. Since the studies on the Virani's Divan carried out to date generally consist of transliteration of a copy, the new manuscripts will provide convenience to future researchers of the Virani's works.
Downloads
Download data is not yet available.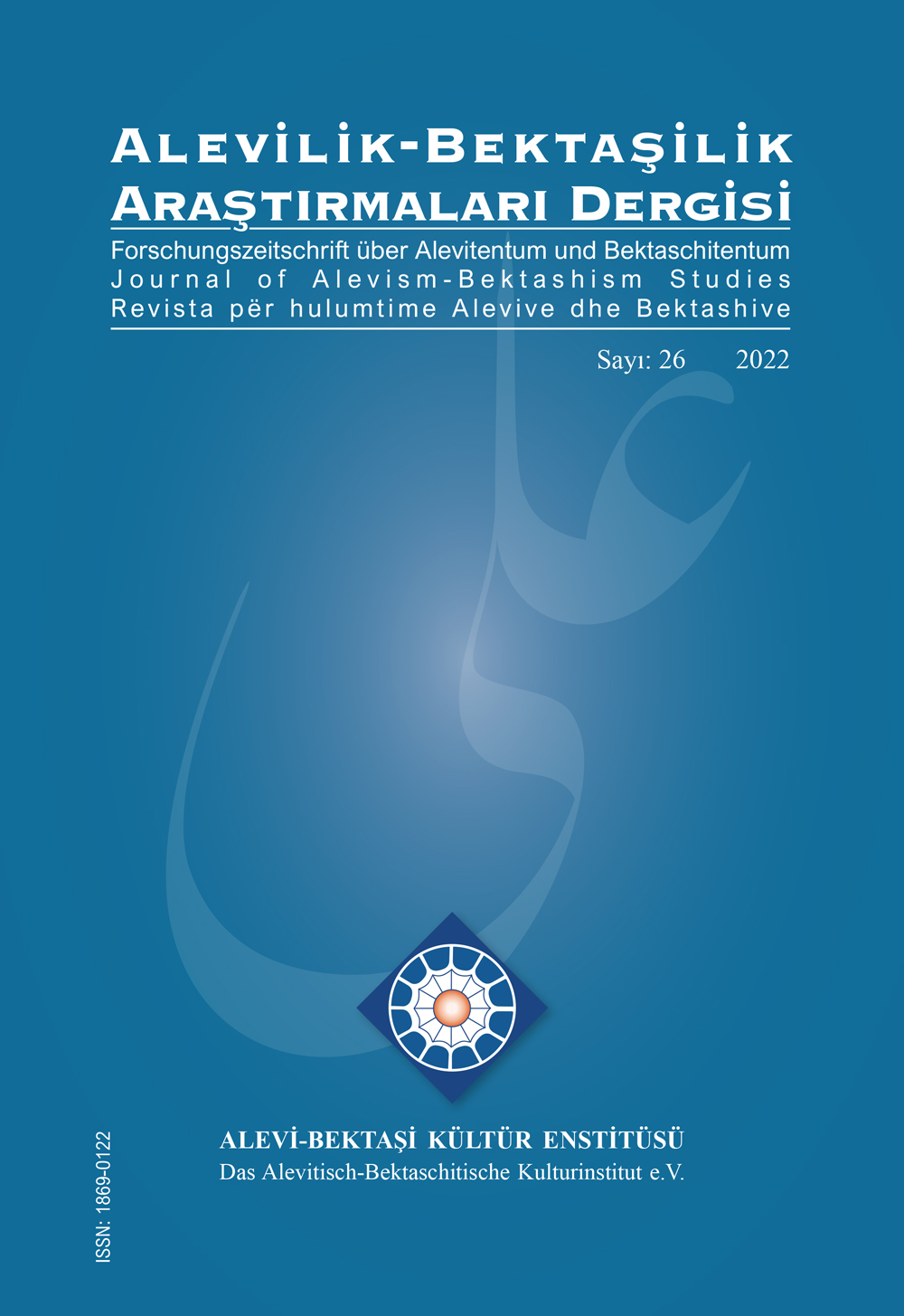 Downloads
How to Cite
[1]
Kaya, T.T. 2022. Manuscripts of the Virani's Divan. Journal of Alevism-Bektashism Studies. 26 (Dec. 2022), 87–105. DOI:https://doi.org/10.24082/2022.abked.382.
License
Copyright (c) 2022 Journal of Alevism-Bektashism Studies
This work is licensed under a Creative Commons Attribution-NonCommercial-NoDerivatives 4.0 International License.