An Interpretation of Virani Abdal's Poem Starting with the Couplet "Elif u Mim´den Aldık Sırr-ı Kuranı"
Keywords:
Alevi Bektashi, Virani, Alevi poetic tradition, comment
Abstract
Within the Alevi-Bektashi literature, ashiks have symbolically expressed the states they accepted during their spiritual journeys in an enlightened style, in the form of poetry. This is because these states, occurring in the unseen, can overflow or can be transferred into the external, material world only within the scope of the symbols enabled by the poetry genre and literary devices, such as lugaz (riddle written in verse), teşbih (simile), tevriye (double entendre). Works, such as Tevil (Interpretation), Şerh (Explanation) and Tevcih (Comment), were written in order to express the core meanings of the symbolic language of forms –nefes, deyiş, nutuk, etc.- created in this literary tradition. Usually, the question "Did the poet/ashik really mean what was said?" will inevitably arise while reading the text written for the explanation of any literary work, whether it is Tevil, Şerh or Tevcih. However, every literary text takes shape according to the level of reader's comprehension from the moment it leaves its source. Although the explanations and commentaries of all these poems, whose source is divine inspiration, do not fully cover their essence, they are valuable in terms of decoding the layers of deep meaning. In this paper, a poem by Virani Abdal, who belongs to the canon called the seven great poets in the system of deyiş (which is a manifesto of the Alevi-Bektashi belief) or more traditionally the seven unique ashiks, was interpreted in terms of meaning with inspiration from the intellectual competence of the belief.
Downloads
Download data is not yet available.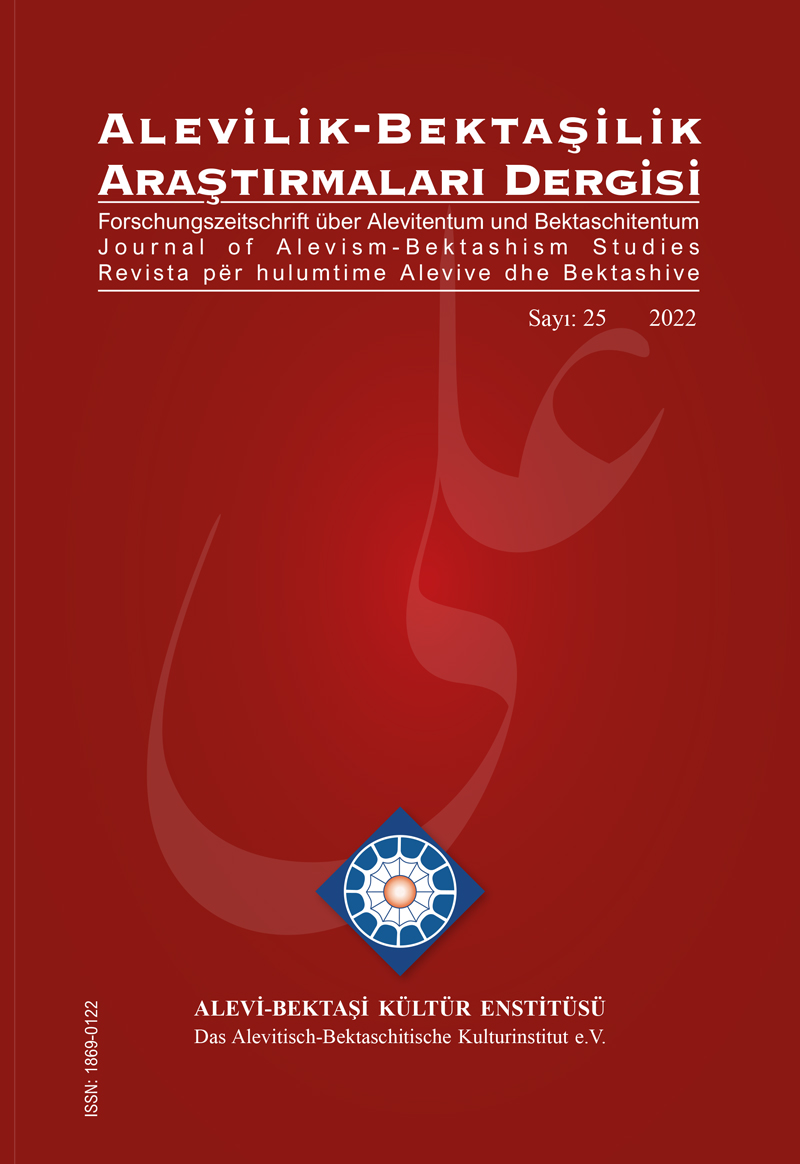 Downloads
How to Cite
[1]
Albayrak, H. 2022. An Interpretation of Virani Abdal's Poem Starting with the Couplet "Elif u Mim´den Aldık Sırr-ı Kuranı". Journal of Alevism-Bektashism Studies. 25 (Jul. 2022), 159–183. DOI:https://doi.org/10.24082/2022.abked.360.
License
Copyright (c) 2022 Journal of Alevism-Bektashism Studies
This work is licensed under a Creative Commons Attribution-NonCommercial-NoDerivatives 4.0 International License.