A New Copy of Hz. Ali-Ifrit Cenkname
Keywords:
Cenknames, Hz. Ali, Ifrit, Gazâ, the Motif of Disguising
Abstract
Hz. Ali cenknames, which found readers in nearly every places from village chambers to the palace, are folk narrations infusing spirit of gazâ to community and offers them an ideal Muslim type. Hz. Ali is being loved for his heroism and bravery by not only in Arabian Peninsula, but also in Anatolia, a great number of narratives have emerged. One of them is the cenkname about the struggle between Hz. Ali and heretic named Ifrit. The Ali-Ifrit cenkname we have is committed to paper with Old Anatolian Turkish's language properties and is the oldest copy up to today. The most significant notion drawing attention in the text is, the hero Hz. Ali's donning the guise of bride to dispatch the archenemy and veiling his identity till the last minute. This demeanour is remarkable in respect to show that cheating and trick could be war tactics when appropriate. In my paper, firstly the place and importance of Hz. Ali cenknames in the tradition of writing cenknames will be put forward; afterwards, the newly identified copy of Hz. Ali cenkname is analyzed from various aspects. Besides, the text in Latin alphabet with its' transcription is included.
Downloads
Download data is not yet available.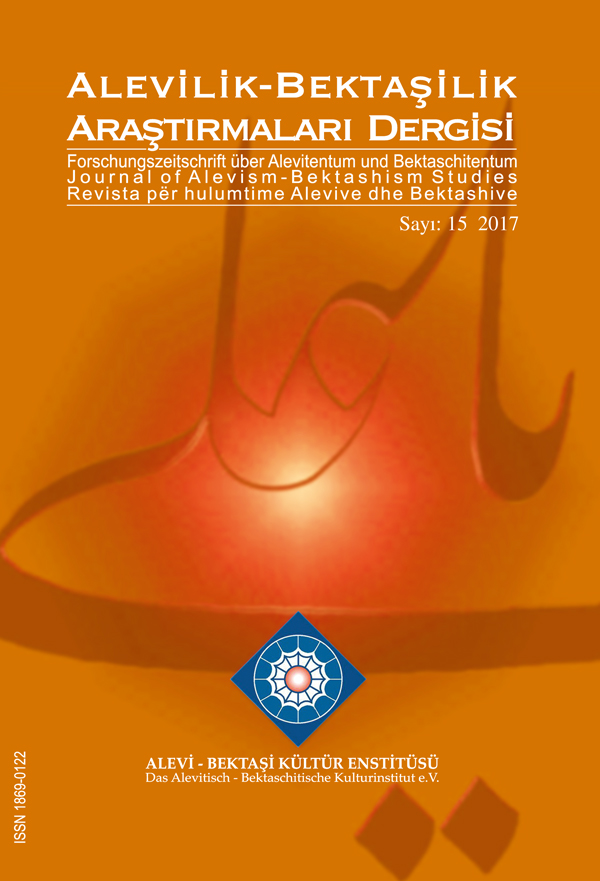 Downloads
How to Cite
[1]
Aykaç, O. 2017. A New Copy of Hz. Ali-Ifrit Cenkname. Journal of Alevism-Bektashism Studies. 15 (Jun. 2017), 31–70. DOI:https://doi.org/10.24082/abked.2017.15.003.