Birth Customs Among Tahtaci Alevis of Yilmazkoy, Aydin
Keywords:
Tahtaci, Alevi, transitional periods, Aydın, Yılmazkoy
Abstract
The oral and available written literature remarks Alevi communities called Tahtaci as Oghuz Turks who migrated from Central Asia to Anatolia. Today, the community called "Tahtaci" and "Ağaçeri", since they are engaged in woodwork, is scattered across Mediterranean, Aegean and Marmara regions. The communities settled as nomad groups in forest areas because they have been engaged in woodcraft throughout history, have started today to live near urban centres and regions and do different jobs other than woodwork.
It is possible to see the hearth (ocak) centred structure, which is the creating and sustaining institution of the Alevi belief system, among Tahtaci Alevis. Tahtaci Alevis scattered across a very large area, are belonging to the two Alevi hearth (ocak): Yanyatir and Hadji Emirli. The hearth with the highest number of aspirants is the Yanyatir hearth. The historical centre of the Yanyatir hearth is the village of Durhasan, in Ceyhan district, Adana, which continues to exist under the name of its founder, charismatic religious leader. The centre of the Hadji Emirli hearth, founded under the religious leadership of Ibrahim Sani, is the village of Cerci, in Islahiye district, Gaziantep.
The settlement of the Tahtaci Alevi communities in Aydin can be traced to the 14th century in historical documents. Communities belonging to the Yanyatir end Hadji Emirli hearths are living within the city borders of Aydin. Aspirant communities belonging to the Yanyatir hearth are living in the village of Yilmazkoy which is the subject of our paper. It is said that the village was founded two hundred years ago with oral narratives. Tahtaci Alevis, who have been living as closed communities, have succeeded to maintain their traditional lives until today. In this context, many elements of the tradition continue to exist in Yilmazkoy, Aydin.
We conducted a master's thesis on transitional periods in Yilmazkoy where we determined that the traditional structure continues to exist strongly. In this paper, we will present the "birth", as one of the transitional periods that we discussed in our thesis, with descriptions and analyses in the light of literature, current field researches and collected data.
Downloads
Download data is not yet available.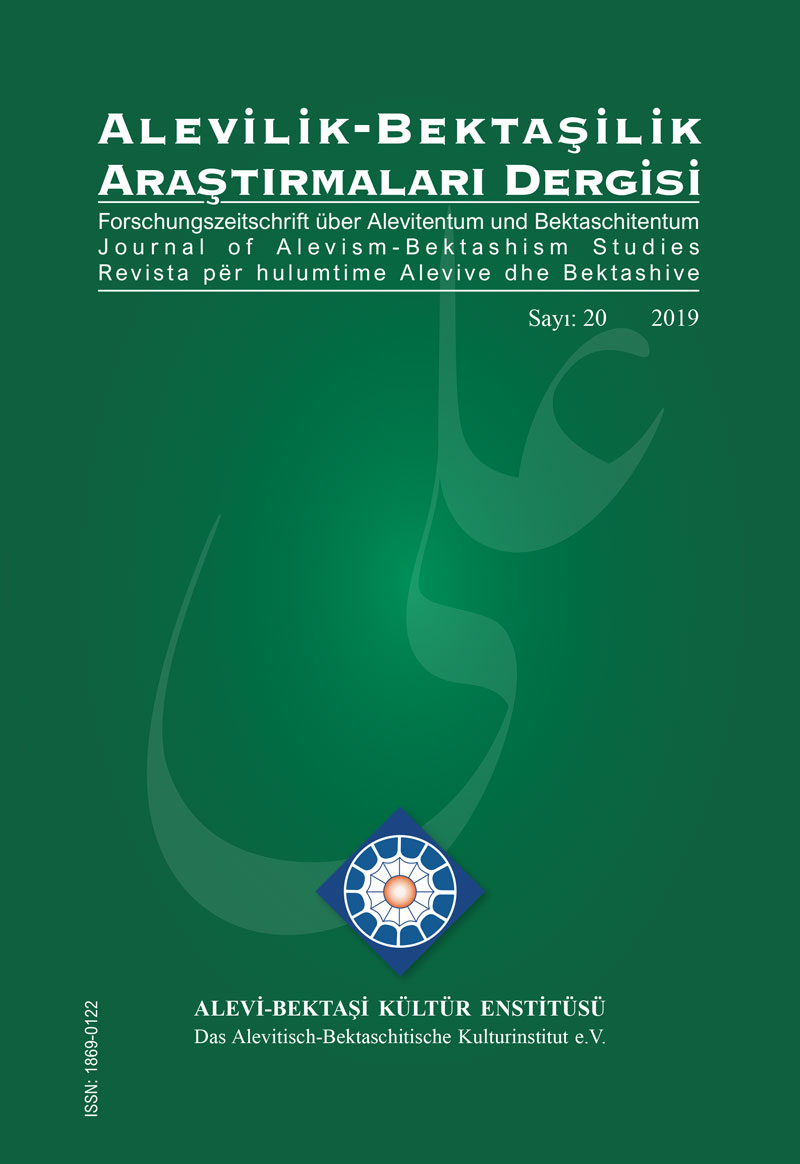 Downloads
How to Cite
[1]
Duman, A.Z. 2019. Birth Customs Among Tahtaci Alevis of Yilmazkoy, Aydin. Journal of Alevism-Bektashism Studies. 20 (Dec. 2019), 209–274. DOI:https://doi.org/10.24082/2019.abked.261.