Four-Graded Hereafter Brotherhood in Way and Rite of Tahtaci
Keywords:
Alevism, Tahtacis, Tahtaci hearths, musahiplik, four-grade, eternal companionship
Abstract
In Anatolian Alevism, individuals need to make their own companion ("musahip") in order to be fully members of the community and participate in "cem" and especially "gorgu cem" rituals. "Musahiplik" is a type of religious and social relationship based on the vow of two married persons, in the presence of dede and aspirants, to remain companions till eternity together with their spouses, to protect each other in every situation and live in unity and solidarity. This companionship, which can only be realised once in lifetime, cannot be renewed in situations like death, indulgence, separation. "Musahiplik" is also called "eternal companionship" or "companionship of the path" because this relationship lasts until death.
In tradition, "musahiplik" traces back to the period of Prophets and it is believed that the Prophet Muhammad's "musahip" is Ali. According to this, "pir" and aspirants "join their hearts and goods" with another family making them companion ("musahip"), and they are accepted in every sense into the path of Alevism. People who are single and have no companion ("musahip") do not have the right to join the "cem" according to the belief. Therefore, "musahiplik" plays a great role in maintaining the path and rite of Alevism.
This paper discusses and analyses "musahiplik" rituals of the Tahtacis, one of the Alevi-Turkmen clans. The Tahtaci "dede"ler are descended from two hearths ("ocak"). One of these is the Hacı Emirli Hearth in the Kızılcapınar village of the Germencik district of Aydın, and the other is the Yanyatır Hearth in the Narlıdere District of Izmir. "Musahiplik" rituals among Tahtaci tribes affiliated with the Yanyatır Hearth show considerable differences both from the Tahtaci tribes connected to the Haci Emirli Hearth and the Alevi tribes connected to other clans in Anatolia. According to this, in Anatolian Alevism, only the "musahiplik" is accepted as the companionship of the path. However, while the "musahiplik" is accepted as the first path among the Yanyatır Tahtacis, it is followed by the four-graded eternal companionship, which is organized, respectively, as "aşinalık", "peşinelik" and "çığıldaşlık ". In our paper, we stressed the eternal companionship among Tahtacı tribes of the Yanyatır Hearth. Firstly, we gave insight into the importance, place, conditions, content and stages of the "four-graded path companionship" belief within the tradition. In addition, we evaluated the religious and sociocultural functions of the "path companionship" belief, which has become an institutionalized structure with rules that have been clarified in the oral culture environment for generations and with the power of sanction.
Downloads
Download data is not yet available.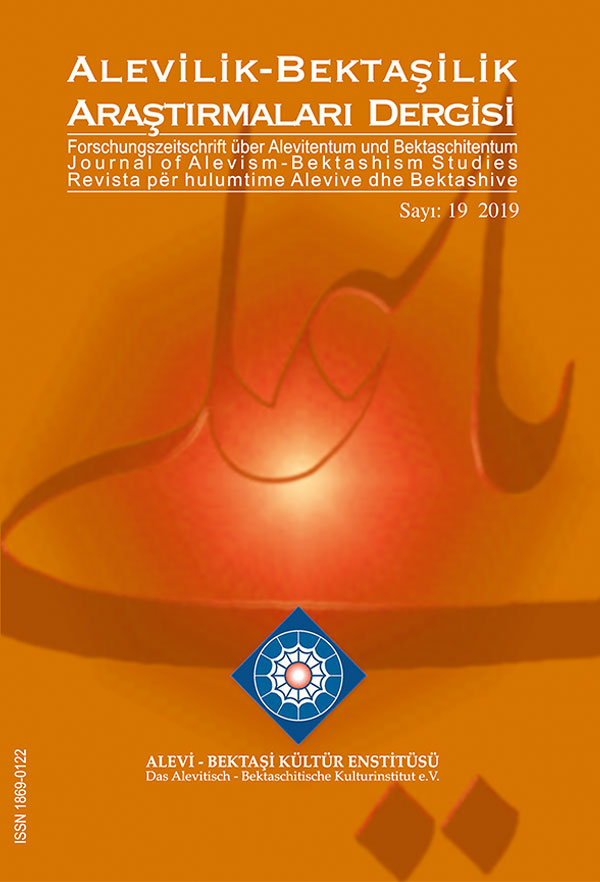 Downloads
How to Cite
[1]
Çıblak Coşkun, N. 2019. Four-Graded Hereafter Brotherhood in Way and Rite of Tahtaci. Journal of Alevism-Bektashism Studies. 19 (Jun. 2019), 49–80. DOI:https://doi.org/10.24082/2019.abked.237.