Tokat'ta Yaşayan Alevilerin Cem Ritüellerinde İcra Edilen Müzik Örnekleri
Keywords:
Ayet, Beyit, Duaz-ı imam, Mihraçlama, Gönüller Semahı
Abstract
Tokat and in the province and districts exemined the tradition folk music specific there playing and singing belongs to area. As with other cities and outliyng towns of Anatolia stil exists in different colours Tokat, living the colours are also seen in these beliefs. For example Reşadiye folk music of features singing and playing like that maintain has been singing "Ayet, Beyit, Semah" in cem. locallay known as "Fadik ağzı" like that experssed in from of discourse.
Survey papers that we have done as a result of the district and the villages of Tokat when we got the esence of the region known as the fiame region, but whice has "Sırac Alevileri-Hubyar'lılar" from came the other villages living. Although it seems that the same sensitives in the local reed and audio playback.
For example althouh in Tokat in the from folk speech in generqal certain modes, some of the grandfathers not important. These features can contunity and its own culture richness of living there. For example, is said to be same song Malatya, Arguvan, differnt Arapkir, different Aydın, while differnt the other, appears to say almost the same from to day. Folk songs people outsides the region in order top ray at certain time the year in Cem. Post topic the particul stage of the legue of properties in this region which in charge known as cem aşıkları like song there stoling sheets that duaz-ı imam, mihraçlama, pervaz, tevhid etc that.
in the region outside of folk songs, people at certain times of year in order to worship, Cem's perform ritual. According to the characteristics of this ritual, binding play a certain song tells the person in charge during this ritual like that; Beyit, Duaz-ı İmam Mihraçlama, Pervaz, Tevhid, Gönüller Semahı etc.
in our area of work; identify these tunes played and songed, and research of involves the instrument how to play in this area.
Downloads
Download data is not yet available.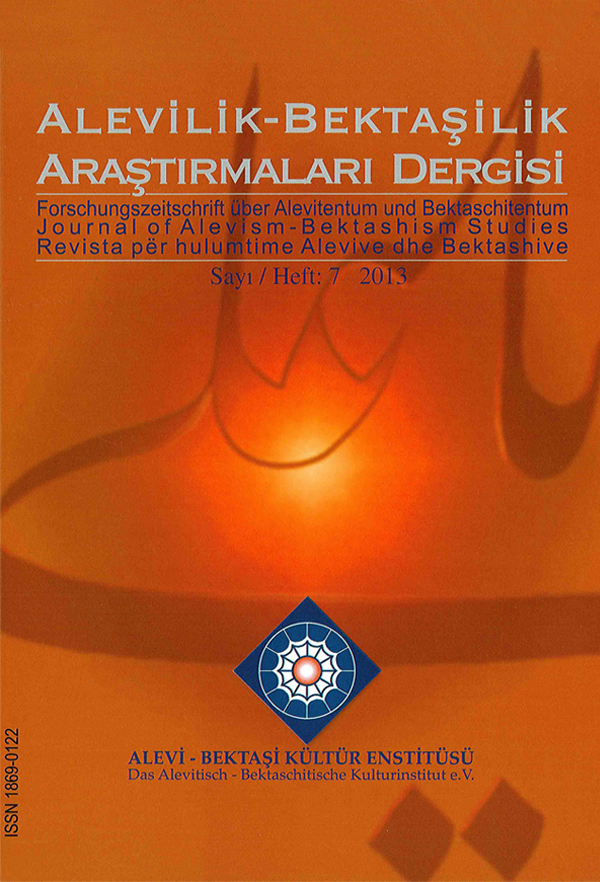 Downloads
How to Cite
[1]
Pekşen, G. 2013. Tokat'ta Yaşayan Alevilerin Cem Ritüellerinde İcra Edilen Müzik Örnekleri. Journal of Alevism-Bektashism Studies. 7 (Jun. 2013), 42–59. DOI:https://doi.org/10.24082/abked.2013.07.003.
License
Copyright (c) 2013 Journal of Alevism-Bektashism Studies
This work is licensed under a Creative Commons Attribution-NonCommercial-NoDerivatives 4.0 International License.