Some Observations On The Worships Of Doğanşehir Alevis In The Month Of Muharram And On The Folk Legends About Their Sacred Sites (The Example Of Şatiroba Village)
Hasan Çelik

Hitit University

Serkan Balcı

Hacettepe University
Keywords:
Alevi, Bektashi, Sunni, Mourning, Legend, Doğanşehir, Sacred Site of Nesim Dede
Abstract
Anatolian Alevism refers to the totality of the processes of the formation and interpretation of the Anatolian people's cultural memory with the Islamic form. The Alevism currently lived / kept alive in Anatolia is not sufficiently addressed in field studies because of the fact that many studies carried out on Alevism focus only on the birth and the historical development of Alevism. Keeping outside of the views on the birth and the historical development of Alevism, this study aims to offer you researchers some observations on the worships of Doğanşehir (Malatya) Alevis in the month of Muharram and on the folk legends about their "Nesim Dede Ziyaretgâhı" (The Sacred Site of Nesim Dede). Observations regarding the customary practices of the Alevis living in the region constitute another aspect of the study. We determined that some gaps have occurred in the customary practices of the regional community because of the fact that the relationship of dede (spiritual teacher) and talip (seeker) has been waning especially due to the progression of the urbanization process. This process has become a source for one of the greatest disagreements developing between the older generations who regularly performed Cem Rituals (gathering) and the younger generations who grow without seeing a maidan (the central scene of such a sacred gathering). Our study carries meaning by this way. Furthermore; by this study, we aim at transfering this accumulated knowledge which has been carried to local Alewish cultural area by the older generations who had been grown with legends and epics being an element of verbal culture and being developed around Nesim Dede Monument, to today generations.
Downloads
Download data is not yet available.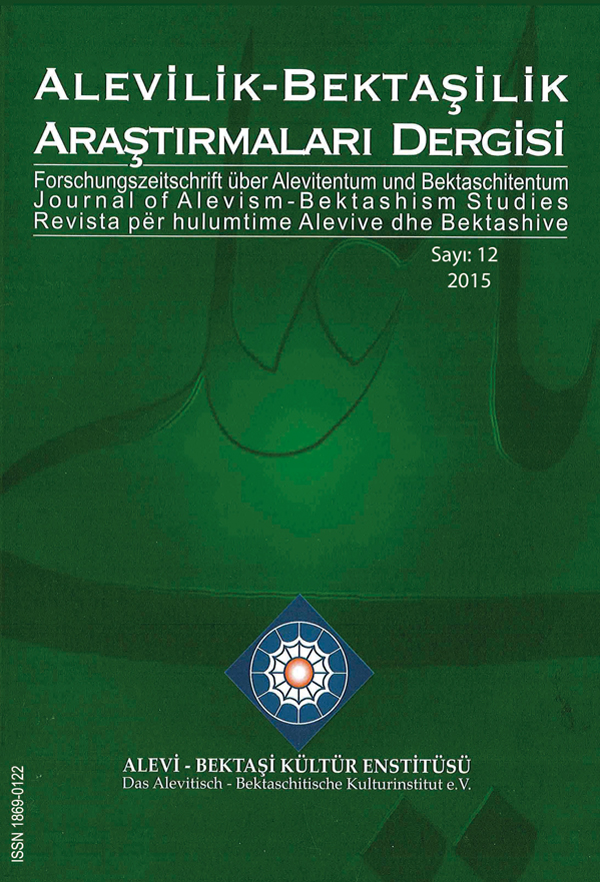 How to Cite
[1]
Çelik, H. and Balcı, S. 2017. Some Observations On The Worships Of Doğanşehir Alevis In The Month Of Muharram And On The Folk Legends About Their Sacred Sites (The Example Of Şatiroba Village). Journal of Alevism-Bektashism Studies. 12 (Dec. 2017), 67-98. DOI:https://doi.org/10.24082/abked.2015.12.002.