The Difficulties and Possibilities of Determining the Turkmen Alevis' Existence from the Ottoman Archive Records (The Example of Diyarbekir Province in XVI Century)
Mehmet Salih Erpolat

Dicle University
Keywords:
Diyarbekir province, Turkmen, Alevi, Surh-seran (Kizilbaslar)
Abstract
Although the existence of the Turkmen Alevis in Diyarbakir and its environs is a known fact, the reflection of this matter on the Ottoman archive records is not much known. In this paper, the reasons for this problem will be explained.
In this paper, detailed cadastral record books registered under numbers 64 and 200 belonging to Diyarbekir province, which are found in the Ottoman Archive of the Prime Ministry in Istanbul and under number 155 in the Archive of Kuyud-i Kadime, connected to General Directorate of Land Registry and Cadaster of Ministry of Environment and Urban Planning in Ankara along with data from account books of Diyarbekir province, registered under number 988 in the Ottoman Archive of the Prime Ministry in Istanbul were used as source material. In addition to these documents, after the analysis of court records of Diyarbekir and provisions book number 1of Diyarbekir, information relevant to the topic was appraised.
The tracks of the Turkmen Alevis' existence in Diyarbakir established in mentioned sources, were presented along with evidences. The topic was elaborated with reference to some personal names, name of places and centers of Alevi ocaks in the region which were determined in cadastral record books. The research paper includes all information about nature, payers, prevalence and quantity of the tax known as "surh-seran" (Kizilbaslar) which is not very known in academic circles and which was apparently taken only from Alevis and was mentioned just once in one of the cadastral record books of Dyarbekir province. In this paper, the nature of the Turkmen Alevis' existence in Diyarbakir and its environs in XVI Century came to light within the frame of information about its prevalence, reflected to archive records.
Downloads
Download data is not yet available.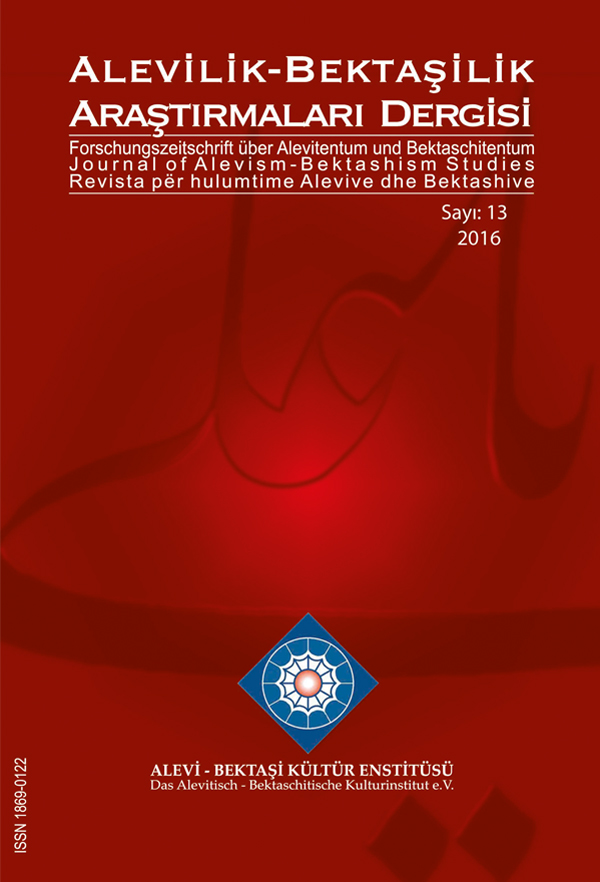 How to Cite
[1]
Erpolat, M. 2017. The Difficulties and Possibilities of Determining the Turkmen Alevis' Existence from the Ottoman Archive Records (The Example of Diyarbekir Province in XVI Century). Journal of Alevism-Bektashism Studies. 13 (Dec. 2017), 111-130. DOI:https://doi.org/10.24082/abked.2016.13.005.