"Ocak does not ever end" An Alevi Ocak from Diyarbakir: the Ocak of Güzelşah, its Tomb and Relics
Keywords:
Ocak, Alevi ocaks,, Guzelsah Ocak, Shah's shoe, Zulfikar's seal, Asab-I Kehf's seal, flag, Diyabakir Alevis
Abstract
Diyarbakir, which was the capital of the Akkoyunlu state, is a region where Turkmen Alevis and their ocaks have been settled throughout history. Among these ocaks Dede Garkin Ocak, Seyyid Battal Gazi Ocak, Imam Zeynel Abidin Ocak, Sari Saltik Ocak ve Aguicen Ocak are counted as the first stage ocaks, and Guzelsah Ocak, Zelil Kalender Ocak, Beyazid Bostan Ocak, Ersefil Ocak, Bozkurt Ocak and Bab-i Sor Ocak were formed in later periods and are unique to the region. Studies done in recent years have shown that Diyarbakir is a Turkmen and Kizilbas city in historical terms. It is a known fact that Sheikh Cuneyd and Sheikh Haydar, the two pioneers of the Safavids, stayed in this city, which was the capital of the Akkoyunlu State, for a long time and assigned dervishes to a significant number of Turkmen communities loyal to them. Moreover, Diyarbakir is the homeland of Shah Ismail, the founder of the Safavid state.
The subject of this study is the Guzelsah Ocak, one of the thirteen Turkmen Alevi ocaks in Diyarbakir region, and its tomb and sacred relics, located in the Altunakar village of the Cinar district. The study tries to explain the purposes of use of some relics from the personal archive of the families affiliated to the Guzelsah Ocak, using information from the interviews with the members and followers of the ocak. This research is composed by following the migration routes of the Diyarbakir Turkmen Alevi ocak members, spread over a wide area from past to present days in the formation of Turkmen and Alevi identities, and conducting approximately one hundred- and twenty-days long field research in the triangle of Diyarbakir, Izmir and Antalya cities. The obtained material is analysed and evaluated within the scope of the Functional Folklore Theory in the light of oral and written sources.
Downloads
Download data is not yet available.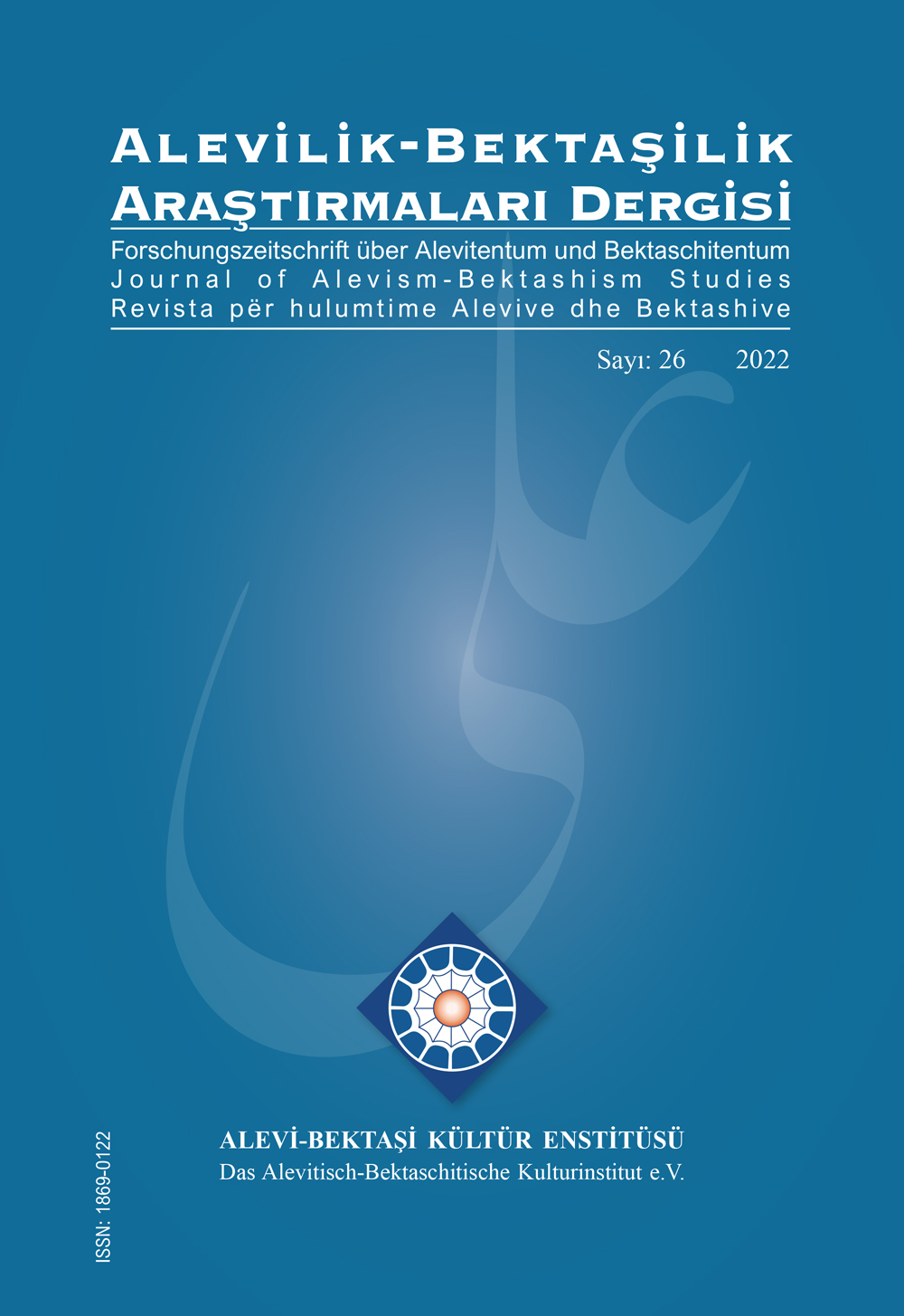 Downloads
How to Cite
[1]
Demirelöz, S. 2022. "Ocak does not ever end" An Alevi Ocak from Diyarbakir: the Ocak of Güzelşah, its Tomb and Relics. Journal of Alevism-Bektashism Studies. 26 (Dec. 2022), 188–228. DOI:https://doi.org/10.24082/2022.abked.398.
License
Copyright (c) 2022 Journal of Alevism-Bektashism Studies
This work is licensed under a Creative Commons Attribution-NonCommercial-NoDerivatives 4.0 International License.