Some thoughts around the problem of method concerning the researchers of Alevism-Bektashism
Keywords:
Alevism-Bektashism, the problem of method and approach, concept analysis, founding texts, ocak system
Abstract
An important part of the problems concerning the researches of Alevism-Bektashism which have been strikingly concentrated in recent periods are due to the problems of methods and approaches. First of all, the problem of the method is a matter of being able to reach the correct and valid information about the subject and issues and problems being studied in a scientific sence and analyzing and evaluating this information accurately and as required. Therefore, it is an indispensable necessity to stay away from ideological and political attitudes by putting forward an understanding that prioritizes scientific methodology and an impartial approach in Alevism-Bektashism studies struggling with serious problems. In addition to, such an approach is a necessity for the liberation of the subject from material for political or ideological debates. Otherwise, the studies with different motives and ideological perspectives will make the subject more incomprehensible, complex and indescribable.
It is obvious that it is necessary to act without forgetting that the Alevi-Bektashi issue is multifaceted; for, this subject is the subject of the theological sciences as well as the social sciences. Therefore, it also has historical, religious, political, sociological and current dimensions. In this context, knowing the historical background of the issue, which has an important historical depth, analyzing this process firmly and taking into account many factors emerging in this process will provide us great advantages.
In this paper, we will try to address the problems related to the method that arise in the Alevism-Bektashism researches that are made in our country in general, and to offer some solutions by putting forward some thoughts around these problems. In this context, first of all, the main problems encountered in the literature will be revealed, and then Haci Bektashi Veli, who is the focus of the discussions with different approaches to these areas, and the methodology centred research areas that need to be emphasized at this point and the prominent research areas aimed at better understanding the subject will be emphasized.
Downloads
Download data is not yet available.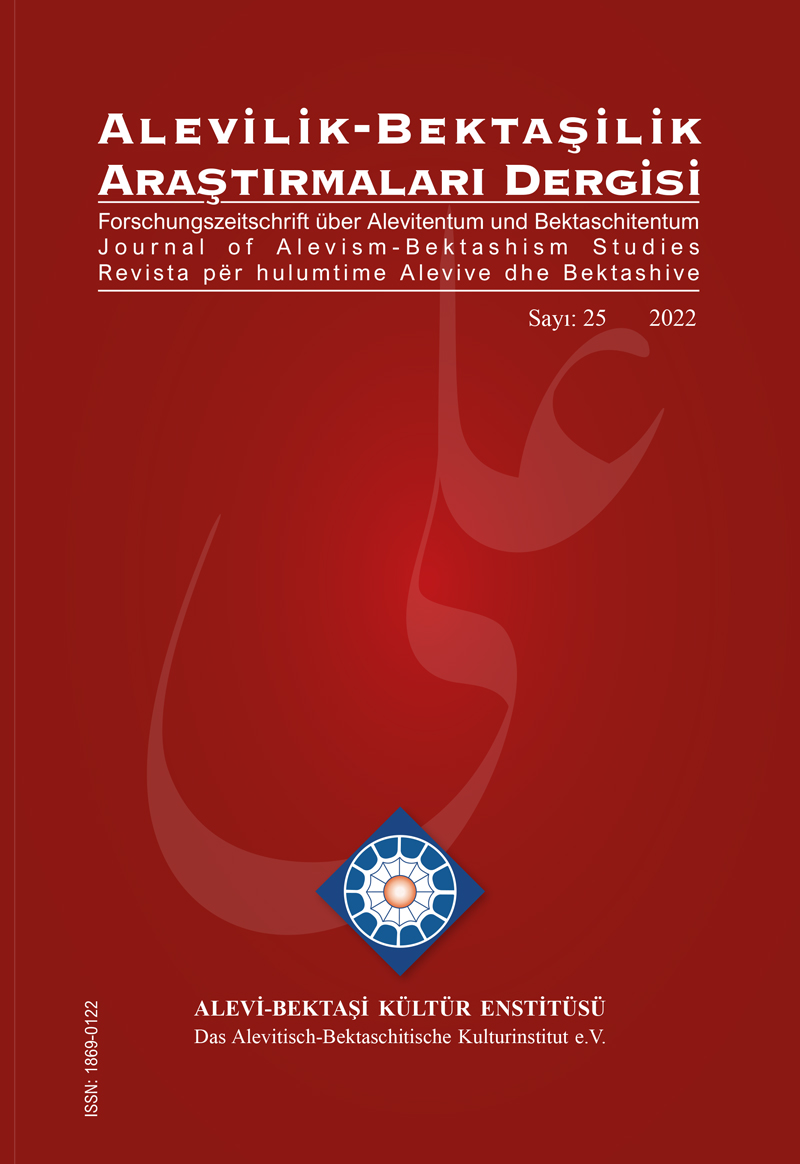 Downloads
How to Cite
[1]
Yıldız, H. 2022. Some thoughts around the problem of method concerning the researchers of Alevism-Bektashism. Journal of Alevism-Bektashism Studies. 25 (Jul. 2022), 20–38. DOI:https://doi.org/10.24082/2022.abked.306.
License
Copyright (c) 2022 Journal of Alevism-Bektashism Studies
This work is licensed under a Creative Commons Attribution-NonCommercial-NoDerivatives 4.0 International License.