The Iconography of Miracle: Miraj and Mirajnamehs
Keywords:
Miraj, Prophet Muhammad, miracle, miniature, iconography
Abstract
This paper addresses approaches to the Miraj problem in Islamic art by discussing the period from the ascension element in ancient beliefs to the Miraj miracle in Islam. Mirajnameh, translated into East Turkish by Mir Haydar in Herat in 1436 by command of Shahrukh son of Timur, was written down by Malik Bahshi. Our paper puts forward the necessity of carrying out larger researches with interdisciplinary methods, supported by disciplines such as theology, sociology and art history. We think that these researches, carried out with the support of Alevi Philosophy Centre, have brought a new dimension and perspective to iconographic readings developed as to Islamic art and literature in the last analysis, and have set ground for more extended researches.
The interest in ascension to heaven/paradise goes to the earliest myths/beliefs. As is well known, humans became socialized to the degree that they could create myths. As it is seen in 65 000-year-old cave paintings done by Neanderthals, the image and/or dream of ascension to heaven was one of the most important elements of the human's myth-creation process. The iconological reading of the paintings of Miraj takes us on a journey through the history of mankind. For example, the image of two-headed "Burak" in the first painting of Miraj resembles mythological creatures, such as Chimera, sphinx from Karkamish, harpy- siren, Umay- the Huma, Shahmaran etc., that can be related in some aspects to the image of Tutu, ancient Egyptian god.
Aniconism, that partly occurs in the history of Muslim societies, is a question of debate whether aniconism comes from the core texts of Islam or different cultural characteristics of Muslim people. It is seen that some of those who mention this prohibition together with Islam, deduce from outdated knowledge due to access problems to the core sources of Islam.
We think that researches on these subjects need researchers who are polymath and can use interdisciplinary perspectives in their work rather than only one discipline. We are pleased to present our research with these ideas to public opinion.
Downloads
Download data is not yet available.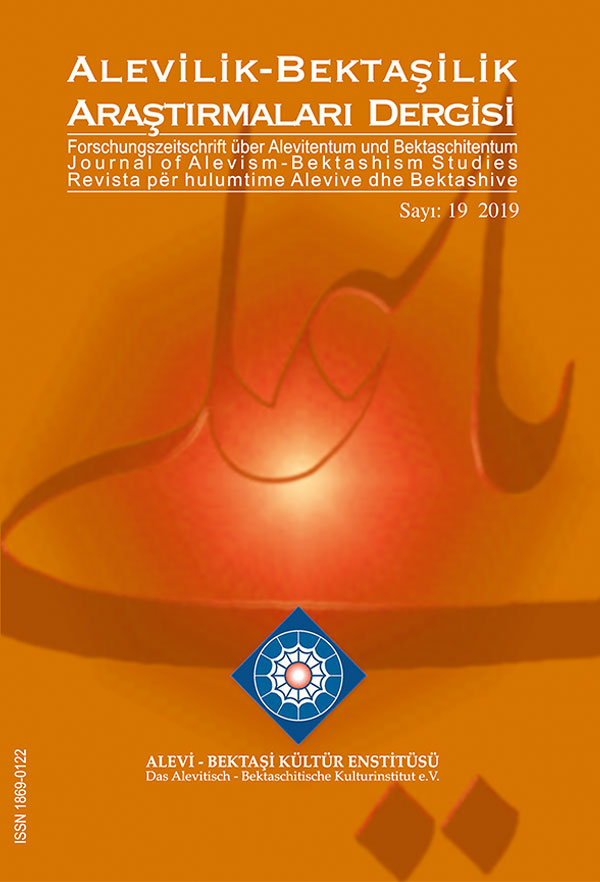 Downloads
How to Cite
[1]
Deniz, A. Çağlar 2019. The Iconography of Miracle: Miraj and Mirajnamehs. Journal of Alevism-Bektashism Studies. 19 (Jun. 2019), 225–284. DOI:https://doi.org/10.24082/2019.abked.235.