ALI-ILAHIS: Interview on Ali İllâhism & Sayyid İnayad Stories (2014)
Keywords:
Ali Ilâhi (Aliyü'l Ilâhi), Ahl-e Haqq, Sultan Ishak, Nusayri, Oraman, Budha, Shaman
Abstract
Although many religious practices of Ali Ilâhis, which have drawn attention of Russian orientalists researching Ahl-e Haqq communities in the 19th and in the beginning of the 20th century, are the same with the practicies of Ahl-e Haqq, several basic differences stand out: Kerend-Oraman (Orman, Horoman, Hewraman) Leq-Delfan region, which is the center of the Ahl-e Haqq belief, is the northwest corner of Iran-Luristan (today's Kermanshah province) on the road of Hemedan - Kirkuk, on today's Iran-Iraq border, in the middle Zagros. Leq-Delfan region, which is in the centre of the road used by the shepherd communities in the region throughout centuries for reaching the plateaus on summer and for descending to winter quarters (winter quarters: barracks, camp, headquarters) and hot flats, is also on the road of the most important Hajj migration and trade road in the East-West direction. Today, Ali İlahis and Ahl-e Haqq share many common religious practices. Ali Ilâhis usually define themselves as Ahl-e Haqq (Hünkâri, Hâvendigâri, Hüdavendigâri). While the variety in the region, generated from different beliefs and ethnicities, can be mentioned, it is an inevitable truth that there are similitudes and transmissions between these groups, which are sharing the same geography. As a Turk, born in Iran's Azerbaijan and living in Tabriz, Iltimas Ahmediyan, who we interviewed, defines himself as Ali Ilâhi.
While Hz. Ali's divinity is the centre of the Ali Ilâhi belief, Sultan Ishak (and his appearances) is the centre of the Ahl-e Haqq belief, as it can be seen in Serencam, the Holy Scripture. Ali Ilâhis are loyal to the spiritual leadership of Seyyid Abdullah Musavi el-Iraki, of Iraq origin. Iltimas Ahmediyan, who I interviewed, is son of a direct witness and narrator of the Seyyid Inayed stories. These stories about belief, repeated in Ahmediyan's home and village, are precious memories. I hope that this interview will provide a more objective perspective to Ali Ilâhis and their beliefs. The interview took place in Tabriz, in 2014. I had a journey to Luristan area, where Ahl-e Haqq belief is concentrated, in 2015.
Downloads
Download data is not yet available.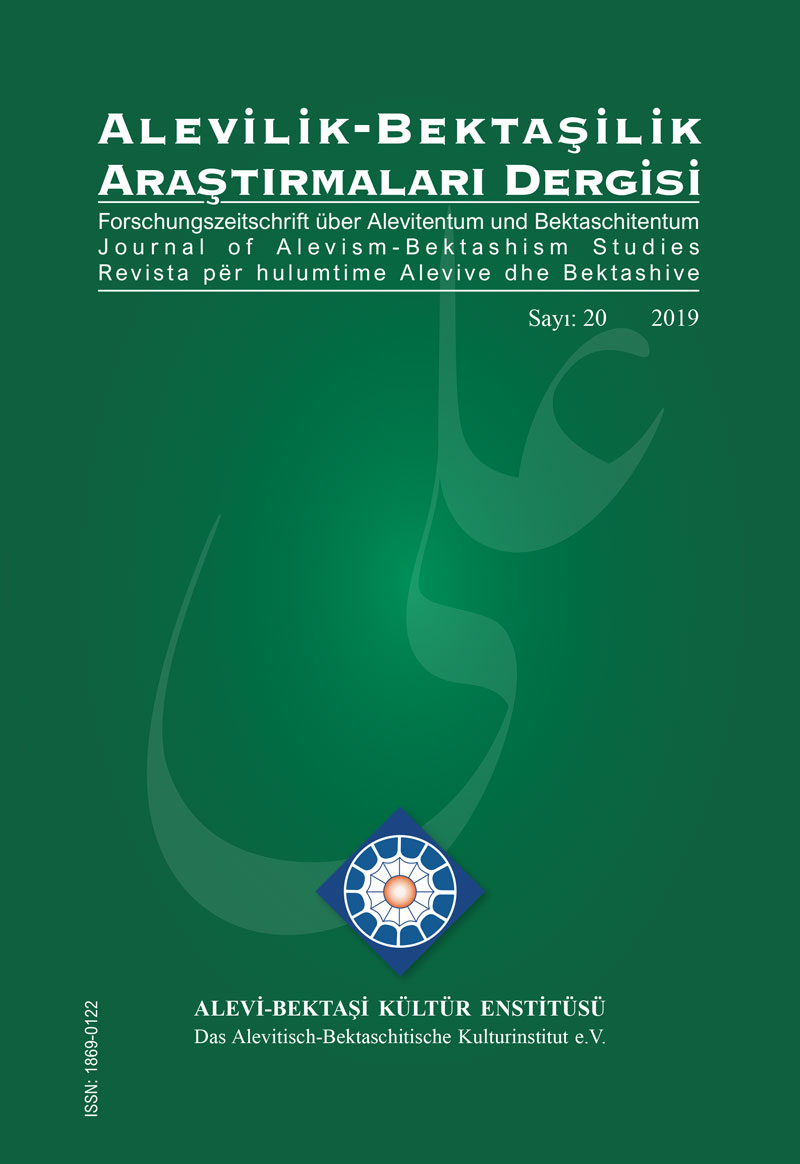 Downloads
How to Cite
[1]
Küçükkalfa, A. 2019. ALI-ILAHIS: Interview on Ali İllâhism & Sayyid İnayad Stories (2014). Journal of Alevism-Bektashism Studies. 20 (Dec. 2019), 275–300. DOI:https://doi.org/10.24082/2019.abked.234.