Saati's Alevism/ Bektashism Treatise
-Manuscript& Latin texts and Dictionaries-
Keywords:
Alevi, Bektashi, Tractate, Saati, Ali Baba, Sayyid Ahmed Tevfik
Abstract
in this study, Saati's Alevism/ Bektashim tractate has been analyzed, then transc- ripts (ed:1), and two- page the original pamphlets (ed: 2) are added to the end of the article. Thus, the tractate is provided to the researchers that will conduct research in the areas of the language, literature, sociology, philosophy and theology. Tractate is located in the National Library Manuscripts Collection, with the number Yz. A. 3195. The work was copied in AH 1275 (Christian era 1858) with the Ottoman Turkish being the language of the work. The author of pamphlets is named Saati, according to the data "Hdzd Kitabu Sdati-i Bektaşiyyi'l- Aleviyyi'l- Hüseyniyyi'l- Cdferi", located on the beginning of the first page, between the phrases "Hu" and "Bi-İsmi Şdh-ı Yez- ddn". Saati was born in Anatolia according to one of Ottoman Tezkire writers Hasan Çelebi, in Germiyan according to Beyani, in istanbul according to Latifi, while accor- ding to Aşık Çelebi, was born in Bolvadin. His original name is Mehmed. Saati, reac- hed degrees of mastery in the areas of Qur'an commentary and hadith sciences. Saati traveled to various regions and preached in mosques. He has a lot of poems in the fields of satire and parody (comic poem). He has written 1000 couplet about Firaki. This "Alevilik- Bektaşilik- Hüseynilik- Caferilik" treatise of Saati was copied in 1858 by al-Sayyid Ahmed Tevfik who is Sheikh Ali Baba's servant abd Musika-i Sultani's apprentice. The article subjected to the review, with the Ottoman Turkish original and with the new Turkish letters translation of the treatise that we added to the end, is the copy of original. This copy, is located in the collection of "Old Manuscripts" in the National Library, and the original pamphlets could not be reached. The work is in a dark brown leather cover, with the outer dimensions of 19.2 x 12.5 cm. (interior 16.5 x 10.0 cm). Treatise, which has 14 waterway watermark, with 27 pages according to the numbers written on pages. The pages are written with 16 lines in rıka form except the last page. An endorsement was added to the last page about the author of pamphlets copy. in the tractate which is described as "Alevilik-Bektashilik-Hüseynilik-Caferi- lik" by the author, Ali in the Alevism has been portrayed in a panoramic image of the history of islam.
Downloads
Download data is not yet available.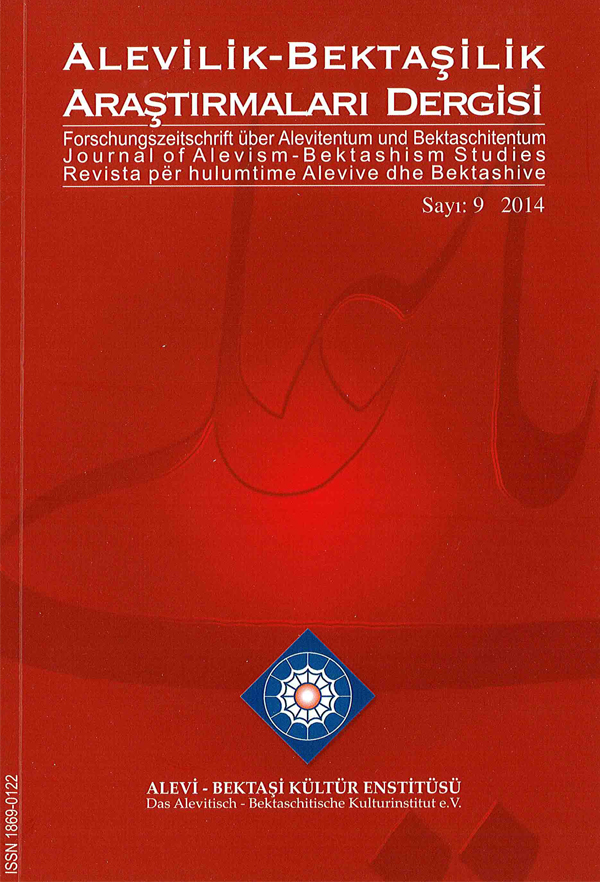 Downloads
How to Cite
[1]
Alkan, M. 2014. Saati's Alevism/ Bektashism Treatise: -Manuscript& Latin texts and Dictionaries-. Journal of Alevism-Bektashism Studies. 9 (Jun. 2014), 157–192. DOI:https://doi.org/10.24082/abked.2014.09.007.
License
Copyright (c) 2014 Journal of Alevism-Bektashism Studies
This work is licensed under a Creative Commons Attribution-NonCommercial-NoDerivatives 4.0 International License.