Şah Ibrahim Veli Related Documents And Information Obtained By Telling Us What Is?
Keywords:
Shah İbrahim Veli, Saint of Khorasan, Association, pedigree, icazetname, telkinname
Abstract
Shah İbrahim Veli is one of the saints who grew up in Anatolia. The informati- on that has been provided on him so far has consisted of the Velayetname of Hacı Bektash Veli and of rumors. The sources obtained recently and the icazetnames and pedigrees taken from the members of this association reveal some new information on Shah İbrahim Veli. it is assumed that most of the information related to this associ- ation got lost or have not been revealed yet. Besides, because of the dispersion of the association members to the different regions, there has been a disconnection between them and it has prevented oral sources from being integrated. When the documents have been scrutinized in terms of scientific approach and an analytic point of view, it is revealed that the followers of Shah İbrahim Veli inhabited in various regions of Anatolia and they maintained the association tradition. it seems impossible to know Shah İbrahim Veli Association and its range without knowing association tradition of Anatolia. While the documents to reveal the historical identity of Shah İbrahim Veli Association show consistency with oral history, from time to time, they refute. Most of the documents obtained belong to Arap Ali Gazioğlu Dede of Village Evci- yenikışla, Çorum. it is understood that these documents were given by Kerbela, Hacı Bektash Veli Dervish Lodge, Erdebil or Sheikh Safıyyüddin Dervish Lodge and Shah İbrahim Veli Dervish Lodge. Another document is Telkinname written by Süleyman Na'im in October 14th,1885 (Muharram 1303).There are the names of various Sufis and the terms related to Sufism in this text, which is longer than 10 meters, adjoin- ted to each other and written in naskh style, What is important in icazetname dated October 31st, 1903 (18 Teşrin-i Evvel 1319) is that Shah İbrahim Veli is used instead of "Sheikh İbrahim Veli", on the contrary of other documents. The parallelism of the names between the pedigree given on April-May, 1903 (Safer 1321) and the icazet- name given on December, 1883 (Safer 1301) to Seyyid Emir Hacı Ali from Sheikh Safiyyüddin Dervish Lodge attracts attention. When the documents were scrutinized, it was seen that both Sheik İbrahim and Shah İbrahim were used. The determination and classification of the documents belonging to Shah İbrahim Veli require long-run- ning and tedious study.
Downloads
Download data is not yet available.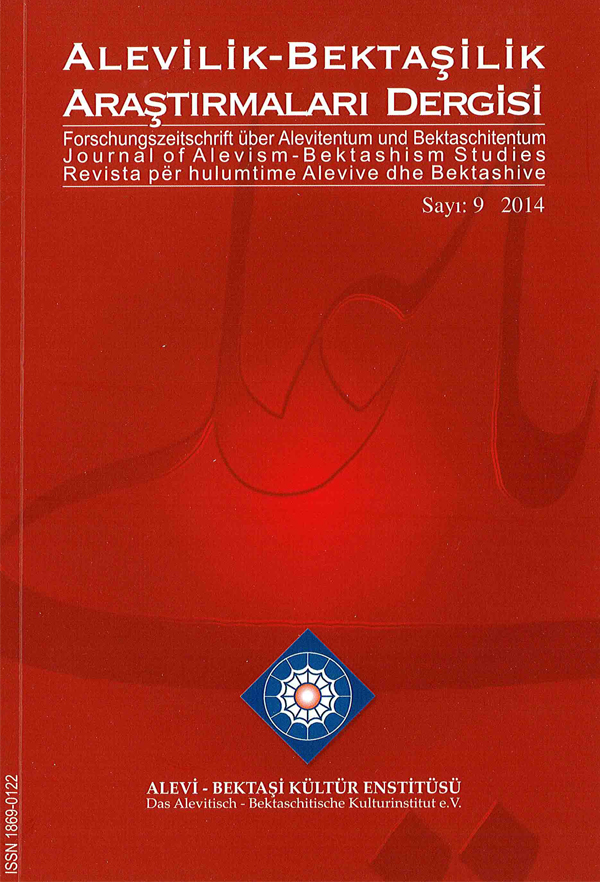 Downloads
How to Cite
[1]
Aytaş, G. 2014. Şah Ibrahim Veli Related Documents And Information Obtained By Telling Us What Is?. Journal of Alevism-Bektashism Studies. 9 (Jun. 2014), 95–110. DOI:https://doi.org/10.24082/abked.2014.09.004.
License
Copyright (c) 2014 Journal of Alevism-Bektashism Studies
This work is licensed under a Creative Commons Attribution-NonCommercial-NoDerivatives 4.0 International License.