The Common Beliefs of Alevis in Serencam, Velayetname and Buyruk
Muhammet Ali Soltani, Dr.

İranlı Araştırmacı Yazar

Esra Doğan Turay

Mardin Artuklu University
Keywords:
Alevism, Bektashism, Iranian Alevis, Ahl-e Haqq, Yarsan, Qizilbash, Serencam, Velayetname, Buyruk
Abstract
This paper is translated with the aim of introducing the book of Muhammet Ali Soltani titled Derunmayehay-i Müşterek der Serencam ve Velâyetnam Buyruk to the Turkish literature. The texts of the poems are referred in the footnotes of the paper because it wasn't possible to add their full texts into the translation considering its length.
This paper is based on Serencam, Velayetname, Buyruk the sacred texts of Alevis, who live in Turkey, Syria, Iraq and other regions, and to whom are given names such as Yarsan, Ahl-e Haqq, Alevi, Bektashi, Qizilbash, Shabak, Kakai. The paper deals with common beliefs, common sacred founders who appear in rites and believes, common narratives in sacred texts, similar symbols and common historical regions of Alevis. This paper is a qualified study which shows that, in essence, Alevis don't differ on the bases of moral injunction (edep erkan) and religious service.
Downloads
Download data is not yet available.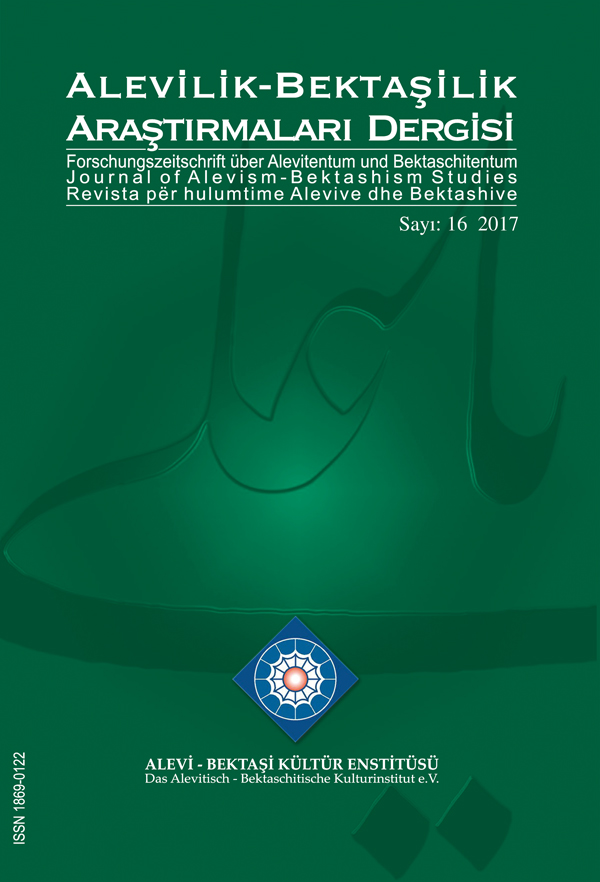 How to Cite
[1]
Soltani, M. and Doğan Turay, E. 2017. The Common Beliefs of Alevis in Serencam, Velayetname and Buyruk. Journal of Alevism-Bektashism Studies. 16 (Dec. 2017), 247-324. DOI:https://doi.org/10.24082/2017.abked.12.