Two Different Communities Having the Same Ancestor: Pilgrimage to the Pasha's Tomb
The Sample of Ayaş Sunnis and Erdemli-Tömük Tahtaci Alevis
Keywords:
Tahtaci, pilgrimage, hierophany, heroic ancestors' cult
Abstract
This study attempts to develop and evaluate the sample of pilgrimage to the Pasha's Tomb in an interpretive approach. It aims to focus on the survival of the cult of heroic ancestors which symbolically codes itself in the phenomenon of pilgrimage. In doing so, examining a sample of cultural phenomenon, it aims to evaluate how the system of cultural values prolongs its existence by preserving its own key compounds by allowing changes in forms.
Herein the pilgrimage ritual is evaluated in terms of the significance of its symbolic meanings. It has interestingly been observed that the effects of beliefs and rituals of the cult of heroic ancestors keep the Ayaş Sunnis and Erdemli-Tömük Tahtacı Alevis together.
Despite the fact that these Sunni and Alevi people have their own different religious beliefs, they both regard the heroic ancestor buried in the Pasha's Tomb as their hero and stick to the beliefs and rituals stemming from this ancestor cult, believing that the ancestor settled down in the land and made this place homeland for them. Even though they have dissimilar thoughts and beliefs on the historical character of the ancestor and on the rituals practiced at the tomb, both groups share the same cultural values and attitudes towards the existence of the charismatic religious leader as a heroic ancestor.
The data of this qualitative research has been collected by doing participant observation and extensive in-depth interviews in Akdeniz District of Erdemli, Tomuk, and Ayaş in the dates between 2013 and 2014. The data has been analyzed and explicated by using an interpretive approach.
Downloads
Download data is not yet available.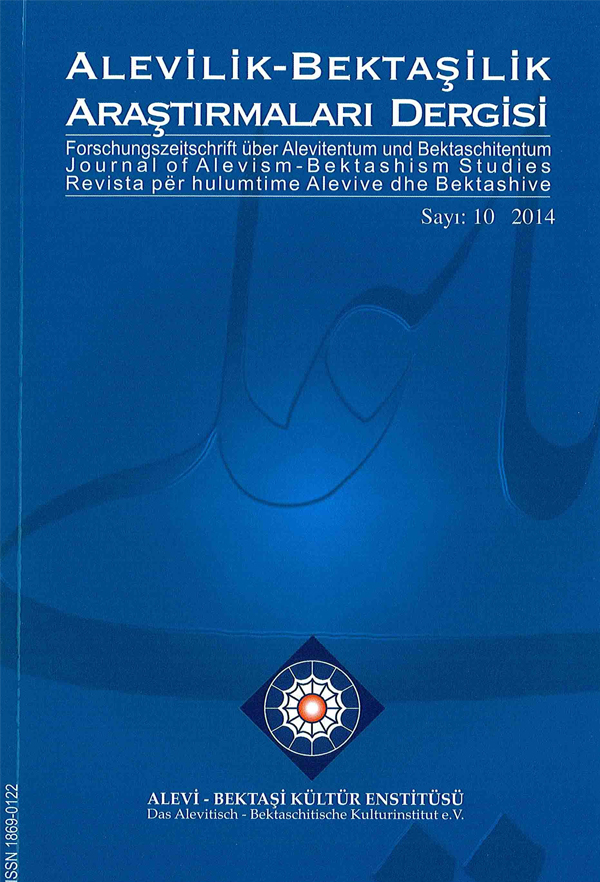 Downloads
How to Cite
[1]
Selçuk, A. 2014. Two Different Communities Having the Same Ancestor: Pilgrimage to the Pasha's Tomb: The Sample of Ayaş Sunnis and Erdemli-Tömük Tahtaci Alevis. Journal of Alevism-Bektashism Studies. 10 (Dec. 2014), 195–214. DOI:https://doi.org/10.24082/abked.2014.10.006.
License
Copyright (c) 2014 Journal of Alevism-Bektashism Studies
This work is licensed under a Creative Commons Attribution-NonCommercial-NoDerivatives 4.0 International License.