Construction Of A Heterodox Dervish Identity Or From Vefaism To Alevism: On Sheik Coban And His Child
Keywords:
Sheik Coban, Ebu'l- Vefa, Menakıbname, Alevi Family, Tunceli, Sivas, Hermitage, Mausoleum, Cadastral Record Books
Abstract
Sheik Coban, whose name was first encountered in the saga which addresses the life and miracles of Ebu'l-Vefa Bağdadî, who is the founder of Vefaî cult, is a historical figure who was overshadowed by the sagas like many Sunni dervishes. Like the other heterodox dervishes, he also acted with the tribes allied with him and his followers, settled in Sivas and conducted guidance activities in the hermitage he constructed. Seljuk ruler III. Gıyaseddin Keyhüsrev (1266-1284), who wanted to get help from Sehik Coban, allocated charitable foundations for the hermitage to meet the expenses. The field of the hermitage gained importance in Sivas in the course of time with the contributions of the government and the dervishes joined the social structure of the city with the help of the charitable foundations. On the other hand, as a result of the spread of the allied tribe members and followers across different parts of Anatolia, an important cult spread among the Turkmen, hermitages were opened in lots of places and offices and mausoleums were built. There are other Sheik Coban mausoleums in Cobanlı village of Gölova district, Mazgirt district of Tunceli and in Hasankeyf apart from the mausoleum near the Sheik Coban hermitage in Sivas. Additionally, there are Sheik Coban hermitages in Niğde, Hasankeyf, Aksaray, Çemişgezek (Tunceli) and Karahisar-ı Sahip and villages named Sheik Coban in Hasankeyf, Niğde, Tokat, Urfa and Kastamonu. Together with the influence of the cult formed around him, he is regarded as the founder of the Alevi family called Sheik Coban, the Mazgirt district of Tunceli. In this regard, this study addresses arrival of Sheik Coban in Anatolia, settlement in Sivas, emergence of hermitages, mausoleums, neighborhoods and villages named Sheik Coban in different parts of Anatolia and the acceptance of a Vefai sheik as the founder of an Alevi family. This study also addresses, in light of the Sheik Coban family, naming Alevi families and their emergence, the influence of people who played a role in the religious and political structure of Anatolia, which will be enlightened with the help of Ebu'l-Vefa saga and cadastral record books.
Downloads
Download data is not yet available.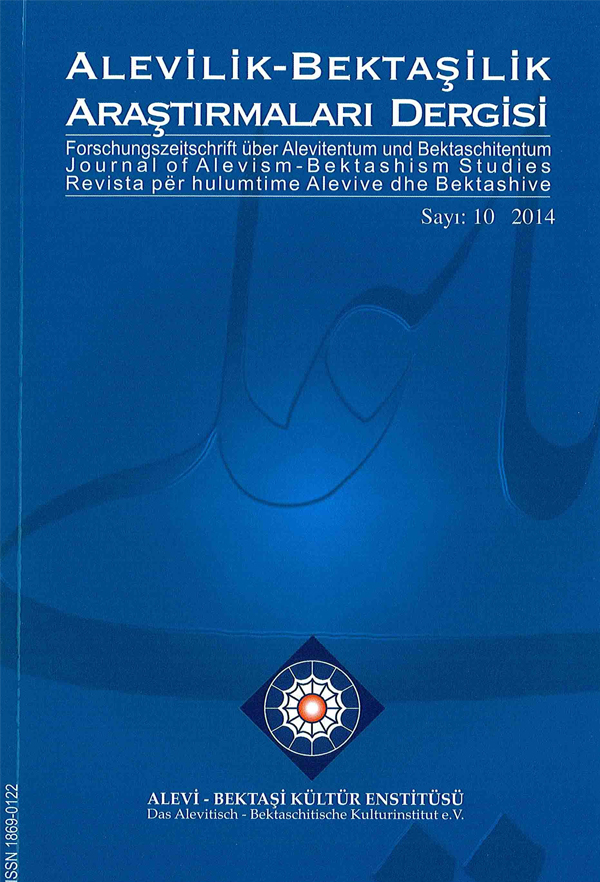 Downloads
How to Cite
[1]
Gülten, S. 2014. Construction Of A Heterodox Dervish Identity Or From Vefaism To Alevism: On Sheik Coban And His Child. Journal of Alevism-Bektashism Studies. 10 (Dec. 2014), 93–113. DOI:https://doi.org/10.24082/abked.2014.10.002.
License
Copyright (c) 2014 Journal of Alevism-Bektashism Studies
This work is licensed under a Creative Commons Attribution-NonCommercial-NoDerivatives 4.0 International License.