Some Notes About Hatay Alevıs (Nusayriyah) (1938-1950)
Keywords:
Hatay Alevis, Hatay, joining, The Press, education, Turkish, community houses, public rooms
Abstract
France that broke off Hatay from the Motherland with the 1921 Ankara Agreement wanted to connect it to Syria with a sleight of hand in 1936. Turkey that wanted to prevent this entered into an attempt to gain the Alevis in the region, who moved away from the Turkish culture with the influence of Arab propaganda when it was under the French. In this context, it developed political, social, cultural, economic and educational policies for the region both before joining and after joining as well. Alevis' numerical superiority over the other communities in Hatay, led these policies to be focused especially on the Alevi community in Hatay. The policies followed achieved positive results, and in this process the majority of Hatay Alevis preferred to stay in Turkey, and some were forced to leave Hatay during this period. However, some of these then returned back to Turkey in the late 1940s. In this period, on the other hand, important political personalities involved in politics of Hatay such as Mehmet Cerep, Suphi Bedir Uluç, Ali Şelhum Devrim, Zeynelabidin Cilli, Abdullah Cilli in Hatay Alevis grew. Schools and courses opened to teach Turkish to them constituted the benchmark of policies oriented to Hatay Alevis. In this context, major tasks were also on the community chambers and community centers in the region which were CHP's subsidiary. Turkish courses were opened by the departments of classrooms and courses of community centers and community chambers especially in the places inhabited by Turkish Alevis, sports activities were arranged and lectures were given for the placement of Turkish culture. Despite all the policy monitored, by the end of 1940, the problem of spoken language among Hatay Alevis was not fully solved and this situation was reflected even in the columns of the local press in early 1949. This topic became an issue discussed by intellectuals and bothering people of Hatay. On the other hand, within this period, some negative propaganda initiatives also occurred inside and outside the country facing Alevis in Hatay. Both the measures taken by the state and the prudent attitudes of Hatay Alevis disabled this propaganda. In short, in this article, provide information about Hatay Alevis according to some documents reached in Archive of the Prime Minister of the Republic and belonging to the period between the dates 1938-1950 of and the local Press; it has been tried to focus on the political, socio-cultural and educational activities towards Alevis living in the region both before and after the joining process; it has been tried to put forward the Hatay Alevis' attitude towards the propaganda made against them.
Downloads
Download data is not yet available.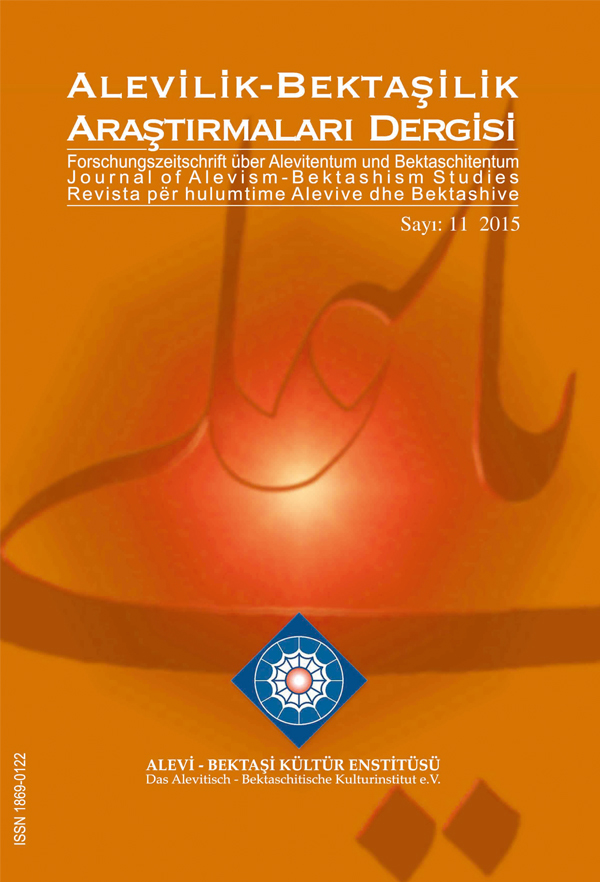 How to Cite
[1]
Çelik, Şemsettin 2015. Some Notes About Hatay Alevıs (Nusayriyah) (1938-1950). Journal of Alevism-Bektashism Studies. 11 (Jun. 2015), 65-98. DOI:https://doi.org/10.24082/abked.2015.11.003.