Nevi (Nev'î) And His Poem (Terkib-i Bend) About Ahl Al Bayt
Keywords:
On Iki Imams, Islamic mysticism, Alevi-Bektashi, İslam, Classical Ottoman poetry
Abstract
The group that consists of the prophet of Islam Hz. Muhammed's daughter Fatıma, his son-in-law Hz. Ali, his grandsons Hz. Hasan and Hüseyin is called "âl-i abâ". Another name given to that group is "Ehl-i Beyt". This concept meaning home or household has an important place in sects and ways like Alevi, Bektashi and Mawlaviyya. Ehl-i Beyt has inspired the poems of many poets who call themselves "bende-i âl-i abâ" (slave of the household). The son of Hz. Hüseyin -who is also the forth chain of the ancestry- Zeyne'l-âbidin has an important place among the 12 İmams. Zeyne'l-âbidin has a wide place also in our literature. 16th century divan poet Malkarali Nev'î has mentioned the concept of 12 İmams in terms of his allegiance in the poem we have studied. The intension of this studying is explain that how the love of "Ehl-i Beyt" affected the Classical Ottoman Literature by Nevî who is a poet of 16. century. Before, some general informations about "12 İmams" will be given. And then, the parts of Nevî's Terkîb-bend will be handled and translated to today's Turkish. And during these we will give some informations and explains about the poem and its includes when necessary.
Downloads
Download data is not yet available.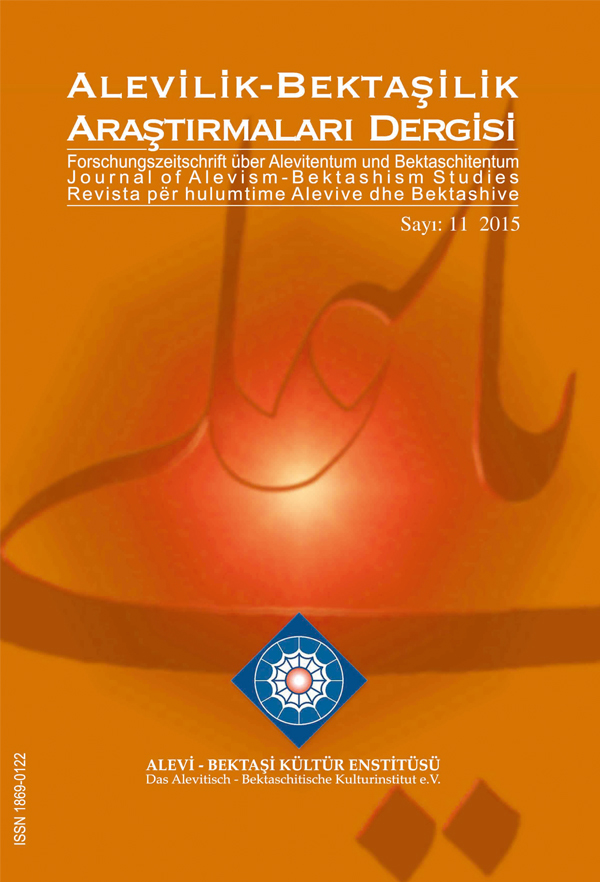 Downloads
How to Cite
[1]
Solmaz, S. 2015. Nevi (Nev'î) And His Poem (Terkib-i Bend) About Ahl Al Bayt. Journal of Alevism-Bektashism Studies. 11 (Jun. 2015), 15–41. DOI:https://doi.org/10.24082/abked.2015.11.001.
License
Copyright (c) 2015 Journal of Alevism-Bektashism Studies
This work is licensed under a Creative Commons Attribution-NonCommercial-NoDerivatives 4.0 International License.