"Qizilbash" in Ottoman Visual World: A Political Reading of Depictions From "al-Dajjāl and Supporters" in Tercüme-i Miftah-ı Cifru'l-Cami
Mürüvet Harman

Çanakkale Onsekiz Mart University
Keywords:
"Qizilbash", Ottoman, Safavid, al-Dajjāl, miniature
Abstract
"Qizilbash" concept was first used in particular for those who are not known, has an important place in 16th and 17th century Ottoman- Safavid world. Although it has more negative meanings in the Ottoman, Safavid hosted this concept oppositely. The word "Qizilbash" which frequently seen in written texts, mainly used for heterodox faithful community of the Ottoman Empire in those centuries. The "Qizilbash" concept and the communities which described by it, mostly been encountered in writings also took place visually. "Qizilbash" socieity mainly come to the fore with harnesses and clothing which especially appear in various manuscripts and the works of travellers who visited the Ottoman Empire. Although some of these manuscripts were remarkable in terms of their subjects and the figures used. For example, Abdurrahman b. Muhammad b. 'Ali b. Ahmed al-Bistami ed-Dürrü'l- Munazzam fî Sırrı'l-İsmi'i-A'zam which was the only example in Islam and the Ottoman world, depicted as whole concept of apocalypse and portents, was one of them. In the different dated copies of the work published in the time of public beliefs and apocalyptic expectations which translated into Turkish as Tercüme-i Cifru'l-Câmi also includes subject related depictions. The work so far has been examined in the context of more technical and iconographic features. However, the scenes subjected as al-Dajjāl (Antichrist), taking place in several copies of depictions, got interest with noteworthy features. In the subjected depictions, both al-Dajjāl 's and Supporter's harness, clothing and positionings, making the depictions possible to examined in a different way. In these studies, a political reading tried to be made considering the political, religious and social characteristics of al-Dajjāl subjected scenes. The costumes and wearings were compared with their counterparts in the other works we face in the same revolution. Yet, the written depictions and figures in these scenes of the "Qizilbash" concept and it's communities, evaluated together. As a result it has been understood in the different copies of Tercüme-i Cifru'l-Câmi, al-Dajjāl subjected scenes quite affected by the political environment of the period.
Downloads
Download data is not yet available.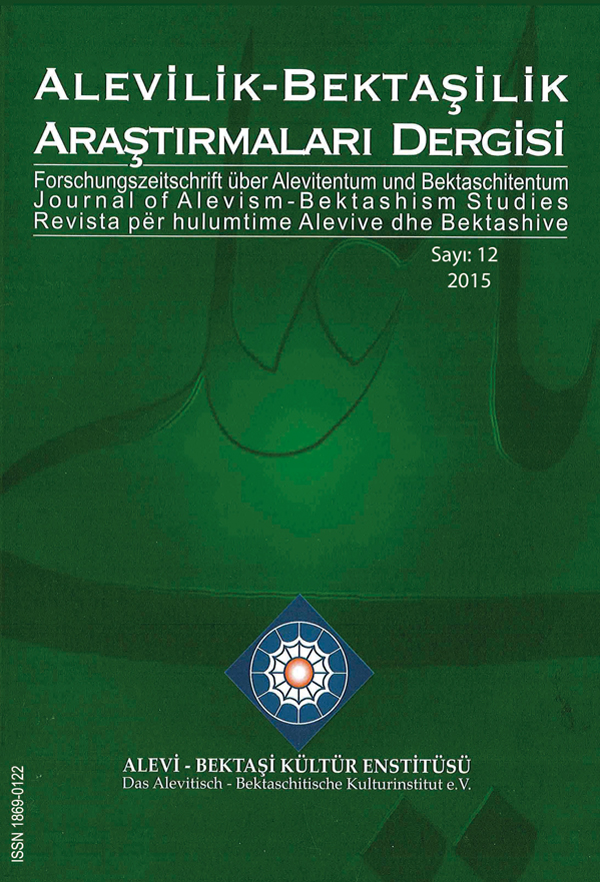 How to Cite
[1]
Harman, M. 2017. "Qizilbash" in Ottoman Visual World: A Political Reading of Depictions From "al-Dajjāl and Supporters" in Tercüme-i Miftah-ı Cifru'l-Cami. Journal of Alevism-Bektashism Studies. 12 (Dec. 2017), 99-122. DOI:https://doi.org/10.24082/abked.2015.12.003.