Doyran a Tahtaci Village in the Kaz Mountains: Ritual and Belief Practices
Keywords:
Tahtaci, Alevi, Turkmen, Kaz Mountains, Doryan village
Abstract
Today, Tahtaci Alevis live scattered in the Mediterranean, Agean and Marmara regions. This Alevi group, called "Tahtaci" due to their occupation of woodworking, shoes an ocak/hearth centred structure like other Alevi communities. Tahtaci Alevis belong to the Yanyatir and Haci Emirli ocaks/hearths. The Yanyatir ocak/hearth, that has more members, is based in Narlidere, Izmir, and the Haci Emirli ocak/heath in the village of Kizilcapinar, Aydin. Dede and talip communities belonging to the Yanyatir ocak/hearth live in Doryan village, located in Balikesir Erdemit, and Tahtaci settlements in the Kaz Mountains. According to oral history, Tahtaci Alevis came on Mehmed the Conqueror's invitation to the Kaz Mountains, in ancient times known as Mountain Ida. Mehmed the Conqueror resettled Tahtaci Alevis, that were living in the Taurus Mountains, in this region to build ships that he'll use to conquer Istanbul and stop rebellions on Lesbos. Tahtaci Alevis, who were resettled in the region in the 16th century, still live in the Kaz Mountains. The community members, whose occupation was woodworking until 1950s, have been working in different professions in the last fifty years, largely leaving woodworking.
Tahtaci Alevi communities are one of the most closed Alevi groups. Tahtaci communities, living in the Kaz Mountains, continue to exist as a closed society in the context of belief and ritual sphere. Beliefs and practices of the traditional Tahtaci culture in Doryan village, which is the subject of our paper, are kept alive and passed on the younger generations. The data presented in our paper, reveals an important fund of the traditional Tahatci Alevi culture on the sample of Doryan village. The data collected in Doryan village is obtained by Hasan Tascinten, inhabitant of Doryan, though many years of his fieldwork. In the paper, we classified, commented and analysed the data in question related to ritual and belief practices.
Downloads
Download data is not yet available.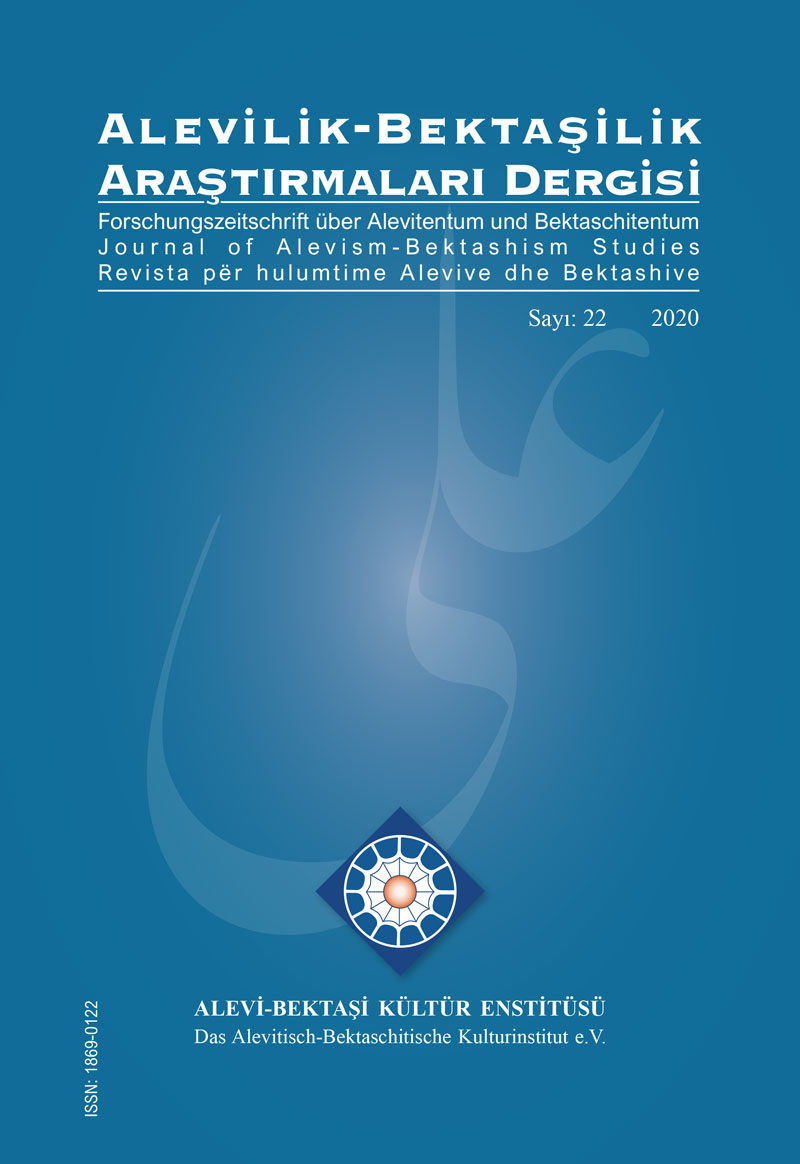 Downloads
How to Cite
[1]
Duman, A.Z. and Taşçinten, H. 2020. Doyran a Tahtaci Village in the Kaz Mountains: Ritual and Belief Practices. Journal of Alevism-Bektashism Studies. 22 (Dec. 2020), 239–334. DOI:https://doi.org/10.24082/2020.abked.299.