About Zevraki
Abstract
Aşık Zevraki 1922-2008. Born in Gelinpetek village of Kelkit . Original name is Akif Timurhan'. First and second education in Kelkit. Got interested in folk literature and started painting when a small boy. Learned to play Bağlama and fiute in young ages.. After seeing a dream got even more interested in folk literature. Used his name in his first poems. Even though different pen names were proposed to him by other poets, he selected to use Zevraki meaning wood, boat. Aşık Zevraki' translated some of the Persian and Arabic noun phrases to contemporary Turkish. Different composers wrote music to his poems. He has interpreted the North Anatolian "Aşık" tradition in a unique style and carried it forward to contemporary times. Adopting the Bektaşi Philosophy for himself, Aşık Zevraki has wriiten poems in many subjects ranging from love, sati- rizing to sufism to nature. Aşık Zevraki, has decorated his hand written grand poem book with his hand made color pictures. Aşık Zevraki died in Istanbul.
Downloads
Download data is not yet available.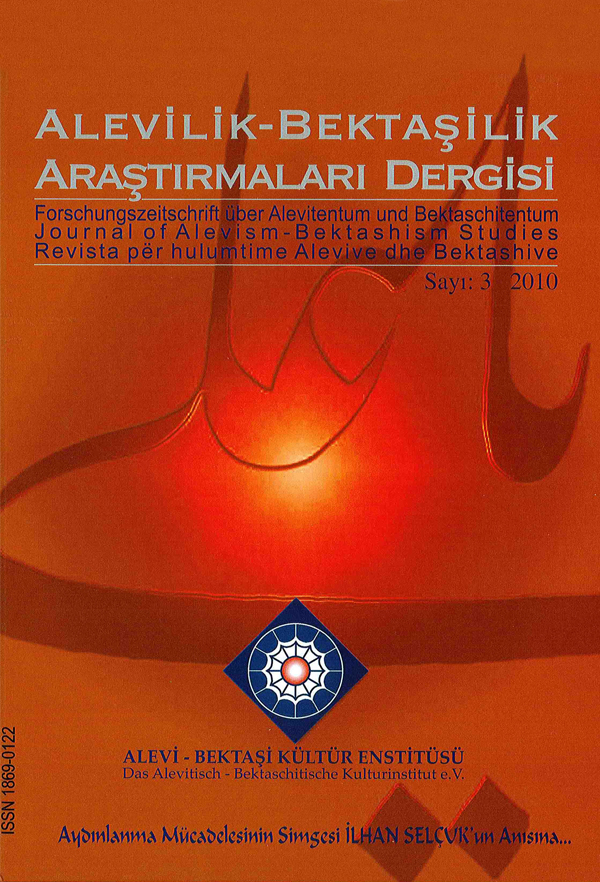 Downloads
How to Cite
[1]
Karadeniz, B. 2010. About Zevraki. Journal of Alevism-Bektashism Studies. 3 (Dec. 2010), 104–110. DOI:https://doi.org/10.24082/abked.2010.03.005.
License
Copyright (c) 2010 Journal of Alevism-Bektashism Studies
This work is licensed under a Creative Commons Attribution-NonCommercial-NoDerivatives 4.0 International License.