About The Meaning And The Importance Of "Velâyetname" In View Of Ahmet Yesevi Haci Bektaş Veli
Abstract
The Republic is a system which based on the sovereignty of the public and it is a democratic political system. Ev- ery type of society determines its own specific form of government. Although the Republic was also important in ancient times it gained in importance with the beginning of the industrialization. The war of independence in Turkey took place with Ataturk as a leader. The solidarity of the civil society and the soldiers made the independence possible. During this war the Alevis assumed responsibility. The Alevi- ´Bektashi prayer leaders called on their people to support Ataturk and to fight for independence. Taking social responsibility is part of the nature of Alevis-Bektashis and acting otherwise would be inconceivable.
Downloads
Download data is not yet available.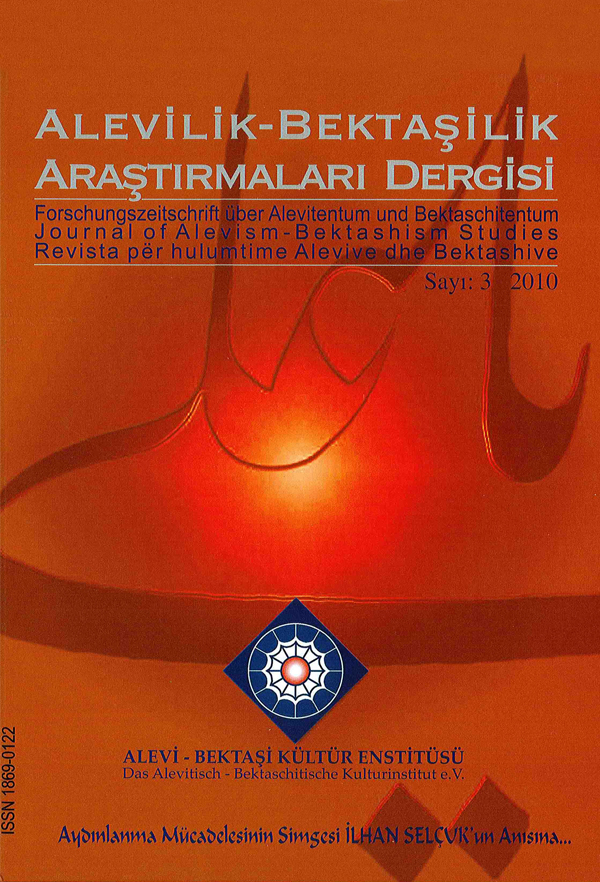 Downloads
How to Cite
[1]
Bal, H. 2010. About The Meaning And The Importance Of "Velâyetname" In View Of Ahmet Yesevi Haci Bektaş Veli. Journal of Alevism-Bektashism Studies. 3 (Dec. 2010), 55–83. DOI:https://doi.org/10.24082/abked.2010.03.003.
License
Copyright (c) 2010 Journal of Alevism-Bektashism Studies
This work is licensed under a Creative Commons Attribution-NonCommercial-NoDerivatives 4.0 International License.