In Tha Nizam Bozkurt's "Turnalar Deyişi" Alevi- Bektashi Sacred Places Of Visit And Figure Of Turna
Cansu Akyol

Gazi University
Keywords:
Crane, Saint, Alewism, Bektashism
Abstract
The figure of crane is used frequently in the Turkish culture; therefore it can be seen in folk songs, sayings and poems. For this reason, the cranes have a special place for the community of Alawites-Bektashis. We have also faced different characteristics of them such as they are seen as sacred because of the assumption that they represent the Tengri and represent Hazrat Ali. Moreover; their voice looks like as the one of Hazrat Ali and movements of Alawitas taking importance place during their worship are associated with their flight. Also, they are visitants travelling different places as the messengers which reflect the feelings of people living abroad.
This study references a folk poem named as "Turnalar" written by Nizam Bozkurt and gives information about traces of saints, the holy places and their locations through journey of the cranes.
Downloads
Download data is not yet available.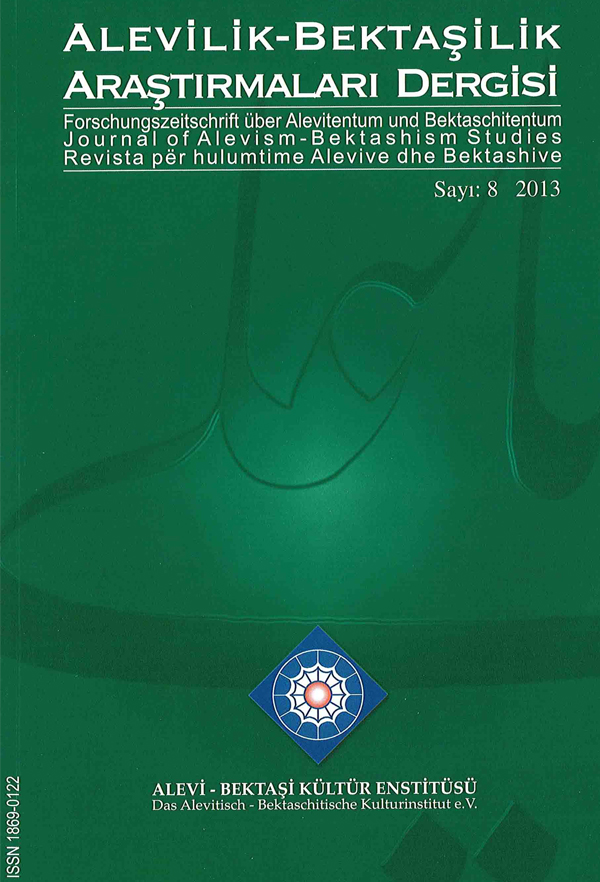 How to Cite
[1]
Akyol, C. 2013. In Tha Nizam Bozkurt's "Turnalar Deyişi" Alevi- Bektashi Sacred Places Of Visit And Figure Of Turna. Journal of Alevism-Bektashism Studies. 8 (Dec. 2013), 225-243. DOI:https://doi.org/10.24082/abked.2013.08.009.