A General Look At The Lineage Of Pir Ahmet Efendi Within The Framework Of The Relationship Between Khalwatism And Anatolian Alevism
Hulusi Yilmaz

Nevşehir University
Keywords:
Khalwati, Alevism, Pir Ahmet Efendi
Abstract
Halveti (Khalwati) and Safevi ( Safavid) tariqasunites in İbrahim Zahid Gilani and are based on Ali according to their family tree. They both considered the love of Ehl-i Beyt as a rule for themselves. Ottoman Empires how ed very much interest in Halveti(Khalwati) tariqa with the aim of decreasing the influence of Safevi ( Safavid) on Kızılbaş (Red Head) Turkmens in Anatolia. Due to this interest, Halveti ( Khalwati) tariqa both started to behave with respect to Sunni doctrine sand tried to acquire Kızılbaş(Red Heads).
Pir Ahmet Efendi is one of the mysticism masters related to Halveti(Khalwati) tariqa which has been respected by both Sunni people and Alevi people until today. After examining the people from whom he took religious knowledge and considering that his son was a mufti, it is understood that he was committed to Sunni doctrine. On the contrary, the names of Ali and Hacı Bektas Veli are written on his tomb. Around his tomb, cem ceremonies are made and there are Alevi villages which are willing to them. Pir Ahmet Efendi can be considered as one of the mtysticism masters who successfully completed the mission which was supported by Kahlwati tariqa politically.
Downloads
Download data is not yet available.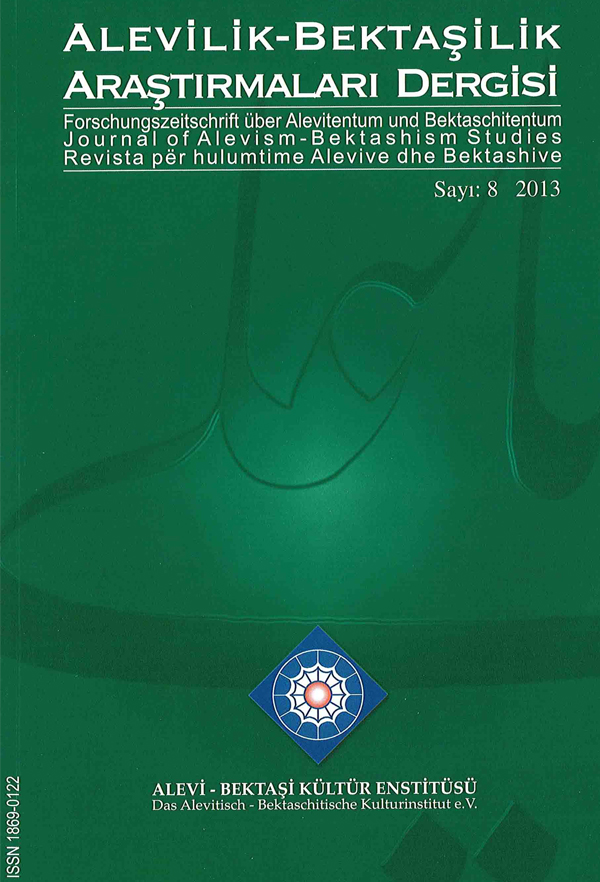 How to Cite
[1]
Yilmaz, H. 2013. A General Look At The Lineage Of Pir Ahmet Efendi Within The Framework Of The Relationship Between Khalwatism And Anatolian Alevism. Journal of Alevism-Bektashism Studies. 8 (Dec. 2013), 117-130. DOI:https://doi.org/10.24082/abked.2013.08.005.