Approaches On The Debates Of Alevi Social Identity
Keywords:
Alevi Associations, Social Identity, Cultural Changes, Western Concepts
Abstract
The recent studies on the debates of identity and culture have been a great interest for both national and international arena since the second half of the 20th century. The questions on the change of Alevi identity and culture have become agenda of academic world, the State institutions, and the public in Turkey and abroad especially since the 1980s. This study attempts to examine the recent debates on and reasons of the change and transformation of Alevi social identity. The principal subject matters of this study are the intensions and considerations on conceptualization of Alevi social identity and culture in terms of the condition and the boundaries of Alevis in Turkey. The effects of social associations such as Alevi foundations, associations and movements, and the influences of the concepts created by Western thought on the definition of Alevi social identity formation are analyzed in the limits of this study.
Downloads
Download data is not yet available.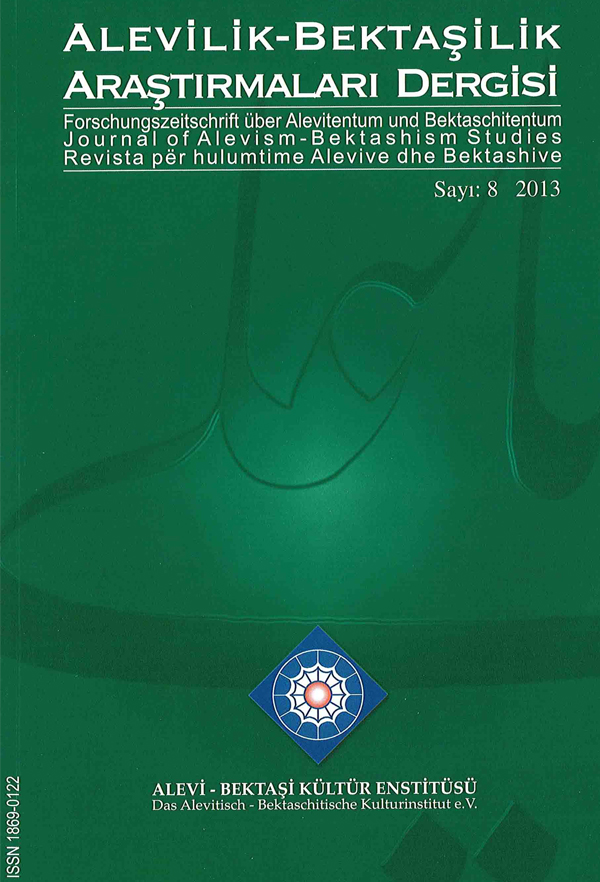 Downloads
How to Cite
[1]
Beşe, A. 2013. Approaches On The Debates Of Alevi Social Identity. Journal of Alevism-Bektashism Studies. 8 (Dec. 2013), 17–36. DOI:https://doi.org/10.24082/abked.2013.08.001.
License
Copyright (c) 2013 Journal of Alevism-Bektashism Studies
This work is licensed under a Creative Commons Attribution-NonCommercial-NoDerivatives 4.0 International License.