Evaluatıon And Discussıon Of The Issue Of Identity In Alevism
Keywords:
Alevism, Identity, Ethnicity, Syncreatism, Negotiation
Abstract
There is an intense debate in recent years about what Alevism is (its identity), how it is defined, its historical roots, its place in Islam, its religional and cultural dimensions and its change, instead of considering Alevism as a different religional group or an ethnicity. Therefore, the basic issue that should be resolved first is the Alevi identity. In this study, Alevi identity is evaluated and discussed in a critical way through considering the results obtained from scientific research studies about Alevism and considering the perceptions of Alevis and Alevi organizations about their own identity. Different viewpoints are defended about Alevi identity in the studies conducted about Alevism; in addition, Alevis themselves and Alevi organizations also have different viewpoints about Alevi identity and Alevis' position. Although there are intense debates about the definition of Alevism and its roots, it can be suggested that it is not correct to define Alevism only as a form and as a monotype according to objective and scientific research studies. In addition, Alevis should accept the fact that there are other Alevi groups that have a different past and cultural traditions and they should come to a union in terms of principles and then they should become organized.
Downloads
Download data is not yet available.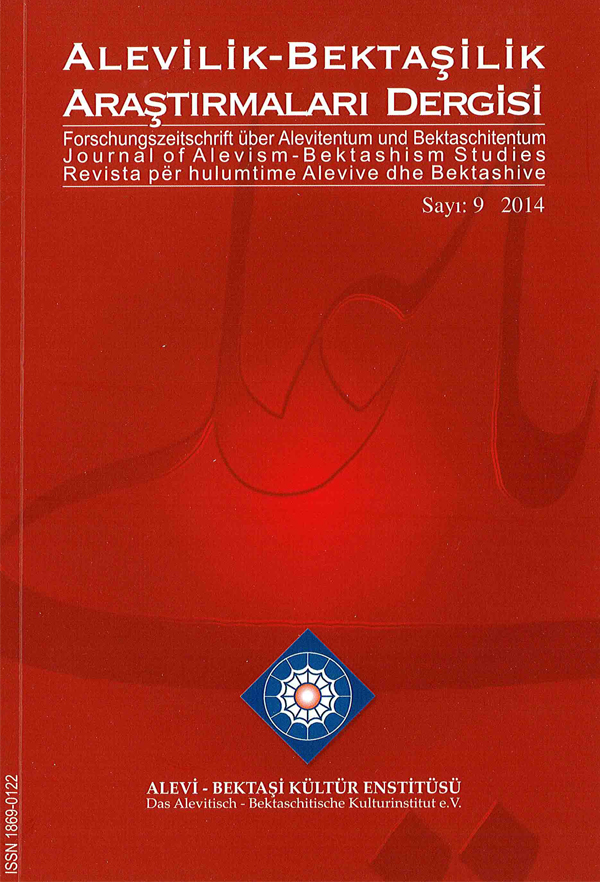 Downloads
How to Cite
[1]
Türk, H. and Kala, A. 2014. Evaluatıon And Discussıon Of The Issue Of Identity In Alevism. Journal of Alevism-Bektashism Studies. 9 (Jun. 2014), 45–73. DOI:https://doi.org/10.24082/abked.2014.09.002.
License
Copyright (c) 2014 Journal of Alevism-Bektashism Studies
This work is licensed under a Creative Commons Attribution-NonCommercial-NoDerivatives 4.0 International License.