Sage Of The River: Koyun Baba And His Legend (Menakıbname)
Keywords:
Koyun Baba, Legend, Bursa, Menemen, Domaniç, Kızılırmak, Osmancık, Sinop, Babadağ, Kalkandelen
Abstract
This article has been involved comments about Legend of Koyun Baba in terms of themes, facts and characters of his Legend. There has been poetic and prosaic copies of this Legend. In this study, both of them has been interpreted. Since therefore copies has been concentrationed and name of Koyun Baba, his travels, religional activities in the line of his travels, caliphes, contacted Fathers, encountering with statesman has been evaluated. In addition to that compilations has been composed in line with characters in Legend of Koyun Baba and different studies about this Legend. Koyun Baba visited different and huge areas-from Khorasan to Bursa, Menemen, Kızılırmak River. Also he came into prominence during the visits, especially Sinop Harbor and religional activities of him in Romania and Macedonia. He had been conducted activities duing the line of Kırklareli, Tekirdağ, Edirne and leaded "Kırk Eren" that conquered Gelibolu. As a result of these activities, some lodges and zawiyas in these areas were named for Koyun Baba and he had aspirants and caliphes during the years. Thereby narratives and places symbolized Koyun Baba has been come until today.
Downloads
Download data is not yet available.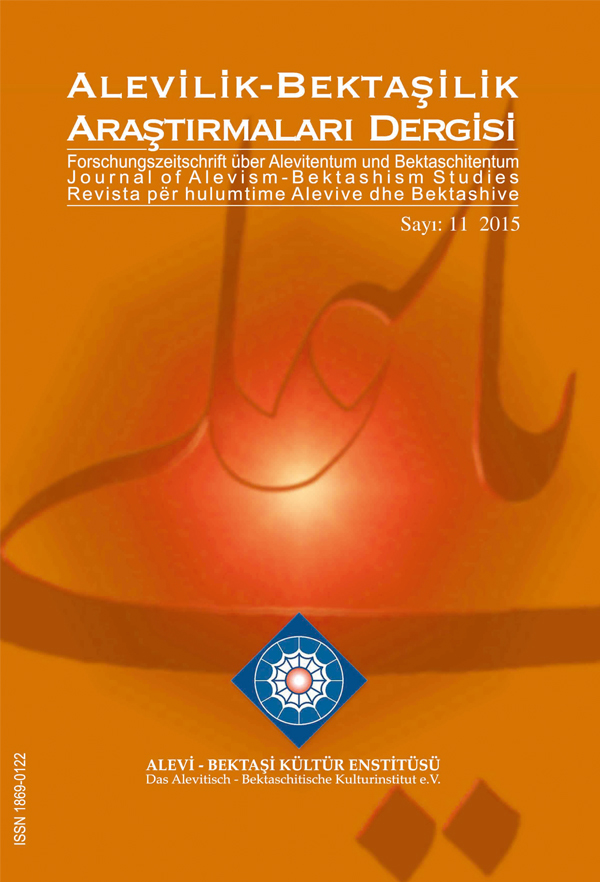 Downloads
How to Cite
[1]
Taşğın, A. 2015. Sage Of The River: Koyun Baba And His Legend (Menakıbname). Journal of Alevism-Bektashism Studies. 11 (Jun. 2015), 117–174. DOI:https://doi.org/10.24082/abked.2015.11.005.
License
Copyright (c) 2015 Journal of Alevism-Bektashism Studies
This work is licensed under a Creative Commons Attribution-NonCommercial-NoDerivatives 4.0 International License.