Rituel And Poetry In The Kazdaglari: On The Sazandarlik / Zâkirlik Tradition Of Tahtaci Turkoman
Halil İbrahim Şahin

Balıkesir University
Keywords:
Kazdaglari, sazandar, zakir, Tahtaci, Alevi
Abstract
Known as Tahtaci Turkmens and living in Kazdaglari, they are connected to Alevi belief and have rituals in this context. As with other community of Anatolian Alevis, cem ceremonies have an important place in the religious and social life of Tahtaci Turkmens. There exist several of the owners of the service during the "cem" ceremony held at certain periods of the year and depending on special situations. More clearly, some tasks have to be fulfilled for "cem" ceremony regularly and in accordance with the rules. The indispensable part of the ceremony after "dede" are "sazandar" and "zakir" who take place among owners in "cem" ceremonies. The duties of these people are not limited to"cem" ceremony but also performing poetry accompanied by "saz". "Zakir"s have an active role in the sacrifice and offerings, military departures, "head covering" ceremonies for brides in weddings, lamentation (rhythmic poems) ceremonies after death, "Hıdırellez" celebrations, "Sarıkız" visits and treating patients. In this article "sazandarlık" or "zakirlik" tradition which belongs to Tahtaci Turkmens of Kazdagi in Balıkesir is examined. Identifications and evaluations were made on the training of "sazandar"s and their patterns of profession, execution environments and times, their poems of the shape, structure, and content properties, tasks undertaken by the religious and social life and the current state of the "sazandarlık" tradition.
Downloads
Download data is not yet available.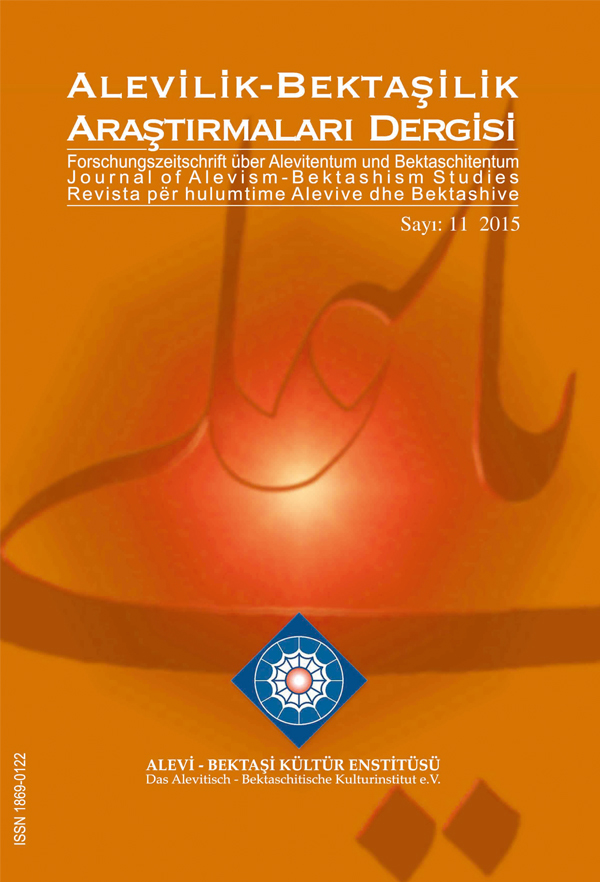 How to Cite
[1]
Şahin, H. 2015. Rituel And Poetry In The Kazdaglari: On The Sazandarlik / Zâkirlik Tradition Of Tahtaci Turkoman. Journal of Alevism-Bektashism Studies. 11 (Jun. 2015), 141-165. DOI:https://doi.org/10.24082/abked.2015.11.004.